Working out at home can be boring – which is a weird thing to hear from someone who's created a home fitness program, and has been promoting bodyweight fitness for years. But despite being an advocate of home training, I'm aware of its shortcomings. Discipline and accountability are hard to maintain, variety requires a lot of creative effort, and some aspects of fitness, like for example strength, get harder to improve without eventually hitting a plateau.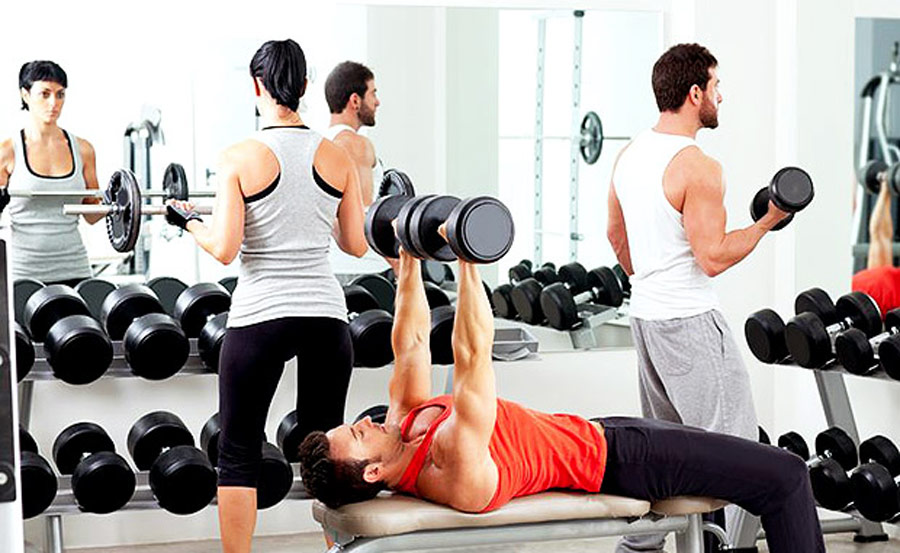 When you are determined to lose weight, there is nothing better than the garden variety of bodyweight exercises. The same palate, however, is not entirely effective when it comes to improving your strength.
So here is a bit of practical advice…
Separate cardio from strength training
If you are after incremental strength gains, you should consider drawing a line between your precious cardio, and strength sessions. When it comes to muscle gain, sets and reps is the name of the game.
This is probably – of all other things I'm about to propose – the easiest way to work on your strength improvement.
Create a numerical board and stick with it. This is how I started training for strength back in the day.
Additionally, you'll also want to consider balance training, for it will help you tremendously when it comes to improving your potential. Learn to exercise control over your body by going over yoga poses, and try static strength moves like the L-sit.
You can also learn more about supersets, or watch this short video from Fitness Updated (you can try the full program for free)
The next step is introducing equipment.
Affordable and portable strength equipment
When training for strength and muscle gain, nothing beats resistance. The more of it you add, the more muscle fiber is being activated, the faster the gain.
This, however, doesn't have to mean abandoning your bodyweight training. You can keep your sets & reps sessions, and use resistance to supplement them even more. And here is a simple and affordable approach.
When buying strength equipment never forget to start from the bottom. A pair of dumbbells, one kettlebell, and one pull-up bar can take you a long way.
Dumbbells offer a garden variety of exercises, where you can actively improve your arm strength by a huge margin, and work wonders on your shoulders, chest and upper back. They are portable, don't require storage space, and for a single, fixed, and affordable price, will last you a lifetime.
Next on the list – if you want to include resistance in other circuits as well – is buying a kettlebell. The kettlebell is great for working on body control, lower back strengthening, and core strength. It will benefit your glutes and hamstrings as well, and allow you to effectively wed cardio and strength training together.
Parallel to these, you'll want to buy a doorway pull-up bar. Both convenient and affordable, it will allow you to activate your back like you never did on your own. The pull-up and the chin-up, if you manage to complete a proper repetition of each, can be scaled into progressive sets and reps, transforming your back for good.
Core and abdominal trainers on the other hand can work wonders for your entire upper body and, of course, the abdomen. An ab wheel can take you a long way in seeing your abs finally pop-up.
If you are willing to invest more, dip stands can significantly improve your strength, and tone your chest, arms and shoulders as well.
Less necessary but useful strength equipment
When people think about their arms, most of them focus on the biceps, triceps and eventually shoulders. Nobody gives a though about the underarm. But if you take a minute to envision most pull-up exercises, and even weight lifting, the function of the underarm is evident. Hand strengtheners, therefore, whether in the form of squeeze balls or grip strengtheners, can help a lot.
Next on the list, is an item you'll definitely love/hate training with – weight vests. Regardless of whether you are doing push-ups, tricep dips or pull-ups, it will transform the exercise into something that is much more challenging. No wonder most of them calisthenics practitioners are using these.
Ankle weights, if you're into short but intense running, can also elevate your game. You can even use them as an additional challenge on top of doing agility work. The same goes for wrist weights, especially if you are into shadow boxing where cardio and strength training are mixed together.
Push-up stands, for those of you who are having trouble doing a proper push up, are almost essential equipment. They will remove stress from the wrists, allowing you to focus on what truly matters, while doing the push-up in its full range of motion. You can even use them when practicing for, or enjoying the L-sit (oh, now I definitely have to buy myself a pair of these).
Barbell training – the ultimate strength boost
While we are definitely entering the realm of weight lifting, barbell training is still relatively affordable and convenient to practice at home. You'll need a quality Olympic bar, plates of different weight, and perhaps a power rack (which is the ultimate investment in your home gym). You can even combine the power rack with a bench and have yourself an improvised home gym at a relatively low cost.
Barbells, unlike machines, allow you to work on your strength the way your body was designed to – into an upright position, using balance, and natural body movement. And even without a rack, the deadlift can make wonders for your physique, and especially lower body.
Cable machines
While cable machines are very expensive to purchase and a pain the back to custom assemble on your own, they can be very effective when training for strength and muscle development.
The cable crossover machines allow you to train multiple parts of your body, and by using different machine attachments, virtually transform the machine into a multi-functional training station.
The same goes for lat pulldown machines, which focus extensively on the back.
Comparing your options
Working out at home is a method of training I will advocate forever. But if you want the best from both worlds, purchasing some strength equipment can take you a long way. Even a pair of dumbbells and a single pull-up bar can make a tremendous difference, giving you an incentive to diversify each session, making it more engaging and much more challenging.