Receiving dozens of requests to make a 21 Day Fix review, we decided to once again take a closer look on a Beachbody workout and evaluate whether or not 21 Day Fix is worth your time and money.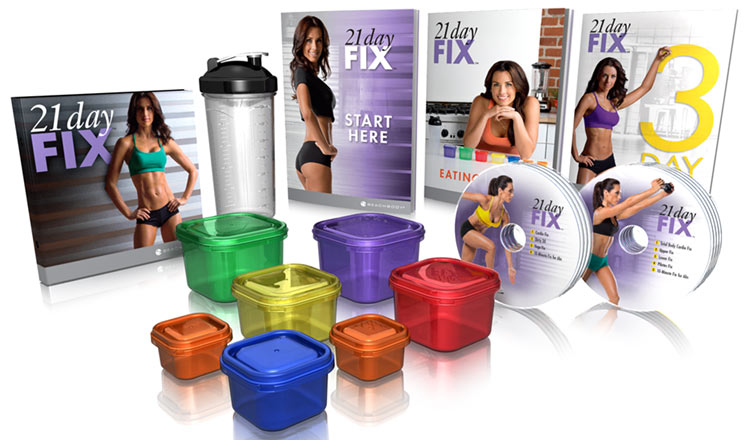 The two of us have already went through couple of exercise programs to prove their effectiveness, or lack thereof, so in order for this 21 Day Fix review to be objective and useful, we decided to hire help from outside. Someone who will dedicate his time and energy for 21 days, following the schedule and then, in parallel to how we review workouts, write the most extensive 21 Day Fix review on the net.
After some back and forth with couple of people from the fitness industry, we decided to approach Sandra, a close friend of ours who we know was going to be up to the task. She completed the 21 day period, and is now going to spill the beans.
Sandra, the rest is yours…
The 21 Day Fix review

Quick intro before I start this 21 Day Fix review… I was on the fitness wagon for as long as I can remember; Gym workouts, Zumba, cardio feats, Aerobic, even competing in the girls Fitness category… the whole nine yards, really.
The thing was, after a while of getting in and out of routine, I took a D-tour and allowed weight to pile up some. The passion for competing has returned, but this time it was nearly impossible to restart the same fitness routine I previously subscribed to. Slightly overweight and lacking the physical preparedness, I needed something else.
I've heard about the 21 Day Fix workout from Beachbody though never gave it enough credit. When the guys from Lifestyle Updated approached me, I figured why not go with it and see how things are going to work out. After all, it's only 21 days we are talking about.
Completing the workout back to back, I'm here to write about it in detail.
What is the 21 Day Fix?
As all the other Beachbody products, 21 Day Fix is a home workout DVD program (if you bought it, you can now stream it anytime, anywhere with Beachbody On Demand) that is designed to get you into shape. What is interesting about 21 Day Fix, is the fact that it contains a nutrition program in the package as well.
In addition, 21 Day Fix is by far the shortest program out there (as opposed to workout programs like the Cize Workout or Insanity Max 30 which are longer) – getting the body you want in just 21 days. Autumn Calabrese made it simple enough so you will enjoy every step of the way. Simple exercise, revolutionary simple portion control, and just 30 minutes of your day for the period of 3 weeks.
If you're looking for something similar to 21 Day Fix, you can check out the Piyo workout, which you can learn more about in this comprehensive Piyo review.
Why the 21 Day Fix?
Coming from a fitness background I can go ahead and analyze many details in this 21 Day Fix review as for why this program makes sense. Trying to stick close to layman terms, here are just few in order to put things into perspective.
It combines many methods of training including cardio, resistance training, Pilates, Yoga, compound exercises… With each day targeting different muscle groups by leveraging different methods of training, you are about to witness a jump start in fat loss and muscle definition.
The workouts last for around 30 minutes. Not going to cite sources on why this is so important, let us just say that it is quite convenient.
You are doing everything from the comfort of your own home. Not a real game changer for me, but I know people who are very hard to persuade when it comes to going to the gym. If you are one of those, this is as much convenience as money can buy.
The whole length of the program is 21 day. Nothing can beat this so far.
It includes a very detailed yet practical nutrition guide, as well as a very revolutionary approach to portion control as well.
There is a modifier to every move, so everyone can do it.
Another 3 day fix nutrition plan that is going to make you Bikini ready in 72 hours. For this I say thanks.
Why not 21 Day Fix?
Probably a more useful chapter than the one above, this is where I find 21 Day Fix failing to deliver:
You cannot bulk up a lot. Having trained to compete back in the day this is sad news for me.
You can really lose up to 15 pounds. Gotta have to do it twice if you would like to shred over 20 pounds or more.
There is not a single day of rest. Sundays are booked for the Yoga fix routine of the program, but despite being relaxing and easy it is still not a complete rest. Thursdays are for the Pilates routine though, and this is yet another form of mini rest.
What should you expect from 21 Day fix?
Depending on your expectations, 21 Day Fix either fails miserably or works wonders, so let me explain…
Don't expect this to be easy, you will have to sweat for it.
Though most exercises are dynamic and engaging, expect to stay on the floor for repetitive movements as well.
Expect to be overwhelmed by the nutrition plan when you first lay eyes on it. You will figure it out within minutes though.
Expect to lose up to 15 pounds of weight.
Expect a lot of improvement in your physical preparedness.
Expect to have solid muscle definition and even a six-pack showing.
Expect a lot of fun during the period of 21 days.
Get 21 Day Fix and all other Beachbody workouts for just $99

21 Day fix – reviews of the workouts
I wanted this 21 Day Fix review to go into as much detail as possible, though keeping you away from being bored to death here are just couple of individual workout reviews.
Cardio Fix
A nicely paced routine that will make you sweat a lot and definitely leave you without breath if you dig deep enough. A lot of innovative and engaging moves, you will never notice it lasting for over 30 minutes.
Yoga Fix
Done on Sunday, this workout routine will allow you to relax and stretch every muscle in your body. It is responsible for improving your flexibility and balance, as well as allowing you to improve in other fitness verticals during the upcoming week.
Pilates Fix
You are doing this one each Thursday, and it will give you a mini rest that you are about to appreciate rather much. However, though resting your body from cardio-vascular activity, it will tone your muscles and especially your core- for nearly all exercises target the core in one way or the other.
Upper body Fix
A lot of movements targeting the abdomen and back, as well as chest and shoulders as well; this one is packed with resistance moves, and has circuit training integrated. You can use either dumbbells or a resistance band.
The 21 Day Fix eating plan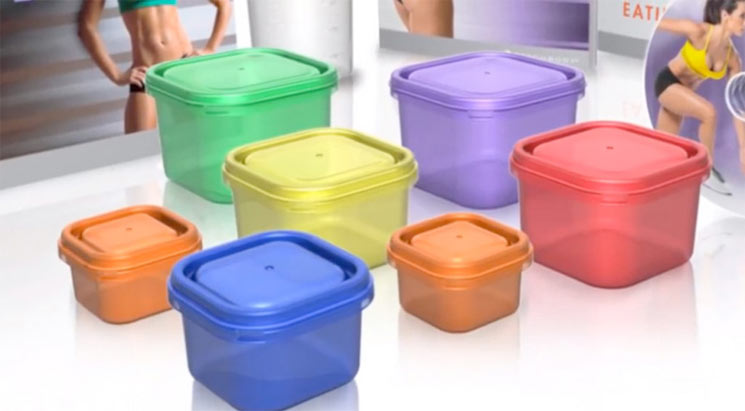 Here you have the practical yet very detailed nutrition plan that takes you step by step, and you get the colored containers in the package as well.
The eating program uses a color coded system of containers to give you perfect portion control every time with almost zero mistakes. NO MORE MEASURING and COUNTING! If it fits in the container, you can eat it, and you'll lose weight. It's that simple.
Green Container: vegetables
Purple Container: fruits
Red Container: proteins
Yellow Container: carbohydrates
Blue Container: healthy fats and cheeses
2 Orange Containers: seeds and dressings
Shakeology Shaker Cup: for mixing drinks
What I really love about 21 Day Fix is its simplicity: you just fill up the containers with the food that goes with each one's color and enjoy! You don't have to count calories at all. Just choose the foods from the list that comes with the program. It's all about portion control – it is what makes this 21 Day Fix workout so special and revolutionary; it teaches you how to make healthy choices in a very easy and no-brainer approach.
It is like you were playing a game. You can even eat this or that but then forego a container for the day.
You also get a 3 day fix nutrition plan that will get you bikini ready in 72 hours, i.e. shred a lot of fat and water and make your abs flat and showing. The program recommends drinking a lot of water and tea, and allows drinking coffee as well.
You are also allowed to take an extra green container per day whenever you feel hungry, since Autumn feels that it is hard to overeat veggies.
Tips for completing the 21 Day Fix workout and getting the most out of it
These workouts are always open to interpretation, since there are no two people doing the same things as prescribed- While some might take a D-tour with the nutrition plan, others might fail to keep correct form during the workouts.
In order to give you more tools than most 21 Day Fix reviews out there, and help you to get the most out of this workout, here is my take on some frequently asked questions:
Make sure you follow the 21 Day Fix schedule to the T. If you fail to complete your workout today, don't beat yourself too much over the fact, but make sure to jump back on the wagon the day after.
Give your maximum during each workout. And I cannot stress this enough. The more you invest yourself, the better results you are going to make.
Better do one repetition right than ten of them without correct form. The more you keep your form right during each movement, the more you activate the right muscles the exercise was meant for. Don't worry though; Autumn will walk you through every move.
Follow the nutrition plan as close as you can. This is a very revolutionary approach to structuring your meals, and it works wonders even within a week.
Sneakers, a towel, a water bottle and an optional mat on the ground… This is everything that you need in order to make great results. The rest is investing energy, showing up day in and day out and trying to follow the nutrition plan.
Yes, you can finish the 21 Day Fix, and then go for another round. In month and a half you will look even that much better.
My results with 21 Day Fix
In one round of 21 Day Fix, I've lost 12 pounds and improved my muscle definition quite a lot. My six-pack is nicely showing again and I'm ready to start with heavy-duty training in order to have a shot at competing again.
I've had a lot of fun with the workouts, especially the complex and innovative exercises I've never seen before (and I've seen a lot). The meal portion control was indeed revolutionary and for the first time ever I felt quite full despite working out every day and eating healthy. It was easy to follow as well – both the nutrition plan as well as the individual workouts.
Where to buy the 21 Day Fix workout from?
*Update – All Beachbody workouts, as of recently, are sold through their subscription model titled Beachbody on Demand. Therefore, I'd recommend the official Beachbody On Demand website.
The cost is $99 for a yearly subscription, but get this – you will also have access to All of their latest programs, All of the popular programs (such as Insanity and P90X), and as if this wasn't enough – All of Beachbody Future releases!
The subscription to Beachbody on Demand comes with a 30 day money back guarantee as well.
The 21 Day Fix program will include:
6 separate workouts plus an extra one
Total Body Cardio Fix
Upper Fix
Lower Fix
Yoga Fix
Pilates Fix
Cardio Fix
Dirty 30
7 colored containers plus a Shakeology shaker cup
21 Day Fix Eating plan
3 Day Quick Fix
21 Day Fix workout guide and calendar
24/7 online support
30 Day money back guarantee. The program lasts for 21 days, so this is quite convenient.
A chance to earn a free 21 Day Fix T-shirt once you complete the program and send them a picture.
Get 21 Day Fix and all other Beachbody workouts for just $99

Conclusion of the 21 Day Fix review
I hope that this 21 Day Fix review has provided you with enough clues to make your decision on whether the 21 Day Fix workout is good enough for your time and money. I had lots of fun hours with it, lost a lot of fat tissue and made muscle definition which earlier I usually had to work months for.
Try the 21 Day Fix for yourself, and let Autumn and the meal plan guide you through a three week journey so you can have a great looking, bikini ready body. It is only three weeks from your life, at 30 minutes per day, along with a very detailed and straightforward approach to eating healthy.
Anything else, let me know in the comments.