This Beachbody on Demand review, as you would expect from Lifestyle Updated, brings about the most detailed description of the program available. As the internet has already revolutionized fitness years ago, it was a due time for Beachbody to finally join the party. And having reviewed nearly most of their popular workouts so far, it is expected that we say our word for the Netflix of fitness as well.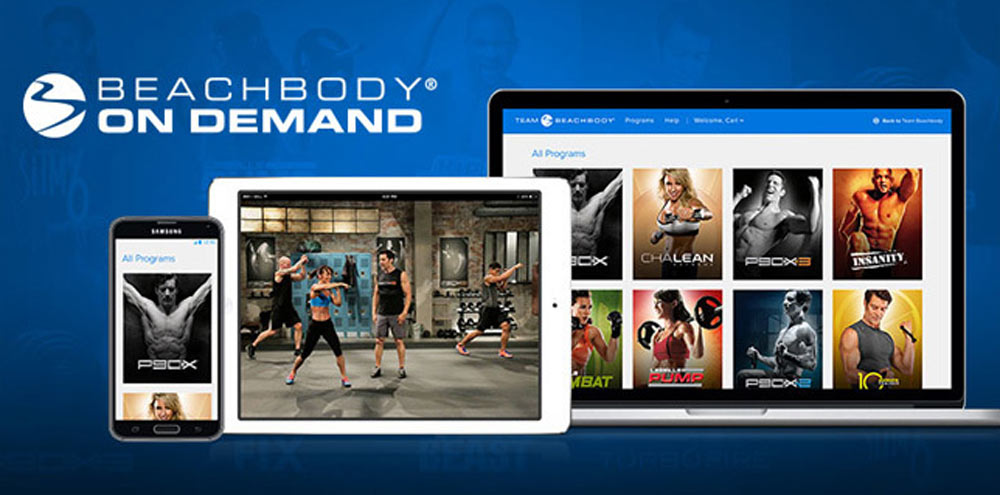 Beachbody fans, those who already bought some of the workouts, but also those who encounter this brand for the first time… Read ahead, I'd like to think that all of your questions will be answered. Contrary to some, this Beachbody on Demand review aims to cover both the good and the ugly. And there is much to cover.
Keeping this introduction short, I will start right away.
What to expect from this review?
First of all, who am I to review Beachbody On Demand, and what gives me enough credibility? Beachbody has been around for more than a decade, and the workout programs spiked attention so much so that hundreds of thousands of people search for them online each month.
Many of those have no idea what to expect, aside from marketing innuendos stretching far and wide. Some even end up buying the workouts, not fully aware of what lays in front of them.
Is this workout compatible for me, is a question better asked before you make a purchase.
So far, being a fitness aficionado for most of my adult life, coaching for a while, and having written some of the most visited reviews on the net, I watched this site receive feedback in the count of thousands. Positive, negative, questions so many that I cannot even catch up answering… Long story short, I know what to look for when reviewing fitness products.
This review goes over all the nuances of the program and why it is probably the best option on the market. But there is another side to it that is somewhat flawed.
In short, the platform is filled with marketing innuendos to get you inside the Beachbody Club Membership, some malfunctions of the log-in option, and the customer service is not up to the task. But let's continue with this Beachbody on Demand review and see what it is and whether it's worth it.
What is Beachbody on Demand?
It is a huge library of online workout programs available for streaming – most of the Beachbody programs that have been released so far, and new releases and updates every once in a while. The access is unlimited, meaning you can watch any number of workouts per day, on any device, irrespective of location or time.
Get all Beachbody workouts for just $99
You can, simply by choice, use your laptop, tablet, and smartphone to play each of these videos, thus granting yourself true mobility when it comes to fitness.
Included inside are personalized meal plans, calendars to track your progress and all the info from each Beachbody workout that you'd get otherwise. As long as you are participating, these tools are all yours along with the vast library of workouts and customized plans- as long as you are participating, you have a great incentive to work on achieving your shape.
The list goes on to include a 10% discount on all future purchases from Beachbody, and gives you the opportunity to attend live chats with each of the trainers.
Here is what Tony Horton had to say about it:
It's fucking great. It's about time.
But let us dive deeper into the workouts, the user interface, and every detail of it.
Why Beachbody on Demand?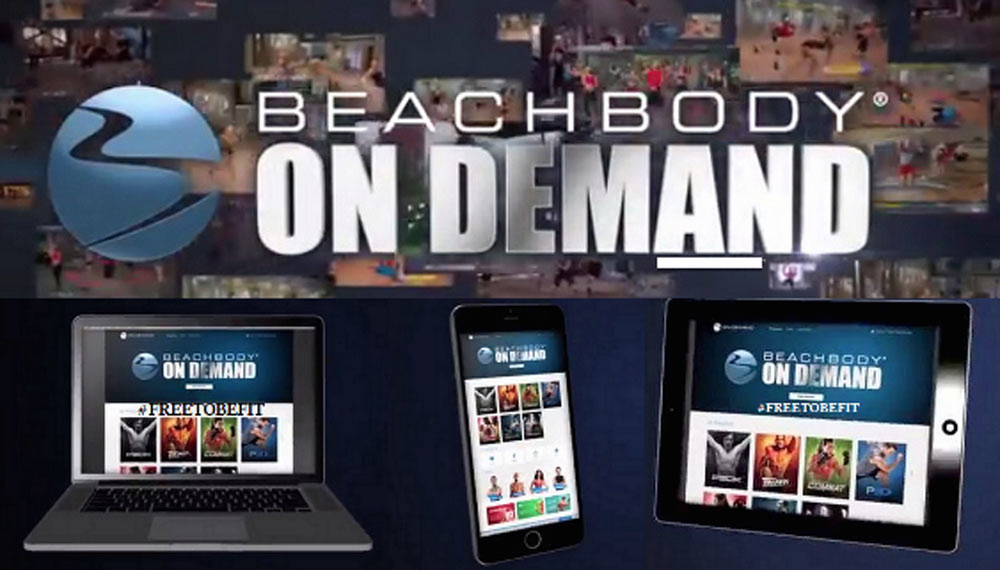 Supposing that you are anxious to read the pros and cons of this program let me start right away. Here are the sweet bits first.
Beachbody on Demand is a massive library of professionally created workouts. Over one hundred videos and still growing. Many programs as a whole also included and some of them exclusively available only with Beachbody on Demand.
Here is a sneak-peek of all Beachbody on Demand programs:
10-Minute Trainer
21 Day Fix
21 Day Fix EXTREME
22 Minute Hard Corps
3 Week Yoga Retreat
Active Maternity
Autumn's Exclusives
Beachbody Yoga Studio
Body Beast
Beast up
Brazil Butt Lift
Brazil Butt Lift Master Series
Brazil Butt Lift: Carnivale
CIZE
ChaLEAN Extreme
CORE DE FORCE
Country Heat
Great Body Guaranteed!
Hip Hop Abs
Ho' Ala ke Kino
INSANITY MAX:30
INSANITY: THE ASYLUM (Volume 1)
INSANITY: THE ASYLUM (Volume 2)
Jericho's Exclusives
Joel's Exclusives
Kathy Smith's Project You! Type 2
Kids and Family Collection
P90
P90X
P90X ONE on ONE (Volumes 1–3)
P90X2
P90X3
Power 90
Power Half Hour
RevAbs
Rockin' Body
Sagi's Exclusives
Slim in 6
The 20's
Tai Cheng
The Master's Hammer and Chisel
Tony's exclusives
Total Body Solution
Turbo Fire
Turbo Jam
YOUv2
Yoga Booty Ballet
Also it allows Premium Club members to stream DVD programs they have purchased from Beachbody.
Variety in programs
While some target losing weight, others aim for more muscle definition or bulk. And since this Beachbody on Demand review won't describe each workout program separately, allow me to reassure you that most of them are far better than you'd hope for.
The question that was ricocheting around though, was not whether these workouts are great or not, but were they great for a specific goal (say losing weight, building muscle, getting more definition). It's hard to make a mistake when you have all of them to compare and decide what to go with.
Besides, taste changes over time, and you might want to build more muscle where you previously wanted to lose more weight or vice versa. As compared to DVD programs, Beachbody on Demand makes it far easier.
Change pace, diversify, build custom programs and never get bored
Truth be told, I tried a handful of workouts from Beachbody, and all of them gave me results I haven't quite hoped for at the time. However, after a while, boredom most definitely kicks in. You either have to pause for a while only to come back to the same routine, or change to another program which translates into another purchase. And since Beachbody programs last for about two or three months (some of them one), you will be spending five times the money, while still remaining tied to your DVD, TV or laptop.
You can customize your schedules, and create hybrid workout programs so you never get bored. The net is full with customization templates, and there are two of ours that I'm sharing for free bellow.
One month trial period for free!
Meaning you don't have to pay a dime for the first 30 days, and there is no obligation whatsoever – you can stop the trial period and that's that.
Newest promotion: Get ALL Beachbody Programs for $99! Stream the best workouts in fitness, get proven meal plans, download workout calendars, stream the FIXATE Cooking show, and more from Beachbody!

Mobile-friendly
Mobile is the new black – and you will be going mobile with this one. Working out in the park, in your backyard (a huge advantage in summer if you don't have the ventilated space), or even making your garage workouts far easier to set-up. Besides, working out with friends was never made easier, due to the fact that you can now workout outside.
Live chats
Frankly, I always thought that one thing was always missing from each Beachbody workout. Motivation. Most people giving feedback on my previous reviews sometimes struggled to keep the pace going. This dramatically changes with live chats. Try listening to Tony Horton, or Shaun T, or Chalene Johnson answering to questions, and then tell me about not being motivated enough. These guys know their craft.
Other sweet bits
10% discount on all things Beachbody.
Most of the deluxe packages are included – meaning, you will get access to the latest versions of each workout program.
T-shirts can still be earned
Videos in HD, instant streaming
This is kind of an online gym with a bunch of personal trainers that you can take anywhere you want. The level of accountability is the same – as long as you are paying, you are more likely to participate. This gives you a better incentive to work out, and utilize all of the tools available at your disposal- which makes it more likely to stay in shape, and improve your performance, muscle mass, and burn fat tissue.
Get all Beachbody workouts for just $99
Why not Beachbody on Demand?
I always like to say that flowery prose doesn't have any place on Lifestyle Updated. When I sit down to write fitness reviews, I like to include all the negative aspects of a workout program, as well as try and predict the features or lack of them thereof where you might face frustration.
This Beachbody On Demand review is hardly an exception. And there are some things that bother me.
First, it is frustrating to rely on online streaming, only to find out that the hotel where you are staying doesn't have a stable and fast internet connection. At this point you are cursing yourself for not bringing the DVDs along. You can turn on the online mobile data on your device, and connect right away but that is not the point sometimes… which brings us to the next issue.
Mobile data being drained fast. Often times, we all forget to turn off our mobile data, and the workout might start streaming from there instead of a Wi-Fi connection. Needless to say, it will drain your data fast in the following days, especially if you'd like to enjoy HD quality videos. However, this means that you will have an option to stream the workouts even in places where there is no internet connection.
You are renting the workouts. The moment when you stop paying, you cannot stream them no more. With the DVDs you own the workouts for life.
However there is another side to this – you have access to all the workouts, and no shipping costs are included. You can sign up and start right away – while enthusiasm is high- instead of waiting for the workouts to arrive at your door. The free trial is still there btw.
FAQs about Beachbody on Demand
Many are floating around the net, so I thought why not answer them here as well. Read ahead, this will reveal much more info about Beachbody on Demand. An extension of the Beachbody on Demand review, if you so prefer.
Are there any subtitles for the workouts?
Yes, all of them.
This was a major concern a while back, and a couple of readers have pointed it to me specifically. Having subtitles means that those who are hearing impaired can easily follow up with any of the workouts. This is a huge advancement in fitness, since nobody else is doing it by the time of writing this review.
Are any On Demand workouts available in Spanish?
The following programs are available with a Spanish Audio option, with Spanish Subtitles also coming soon:
Masters Hammer and Chisel, Country Heat, Core De Force, 21 Day Fix Extreme, 21 Day Fix, Cize, Cize Mashups, Body Beast, Insanity, P90X, P90X2 , Brazilian Butt Lift, RAB, Turbo Fire, Ten Minute Trainer, and Slim in 6.
To play a compatible video in Spanish, begin playing your desired workout/video. Within the player, select the audio/caption icon in the lower right hand corner. All of the available audio options for the workout will be listed.
Note – Subtitle options are not compatible with Microsoft Edge Browser.
Is Beachbody On Demand available in Canada or the UK?
Yes. The US Beachbody On Demand site is available in Canada and the UK.
What are the system requirements?
This is a question that I'm surprised only a few people are asking. When I was signing up, that's the first thing that came to mind. In order to save you some additional trouble searching for this info around the net, here are the details.
Optimal System Requirements
The following system requirements are recommended for optimal streaming playback. If one or more of the requirements are not met, videos may still play, but possibly with poor quality or playback issues, such as slow buffering or low resolution. For best results, use a system that meets all requirements for digital streaming.
Internet
Bandwidth (download)
3 Mbps (or higher)
Speed (ping rate)
100 ms (or lower)
Desktop Operating Systems
Flash
Mac and PC desktop browsers must have the latest version of Adobe Flash installed and enabled in their browser
PC
Windows 7 or 8.1
OS X
10.8 (Mountain Lion)
10.9 (Mavericks)
10.10 (Yosemite)
Mobile Operating Systems
iPhone/iPad
IOS 7.1.2 and newer
Android
4.3 (Jelly Bean) and newer
Browsers
Chrome
Version 42.0.2311.90
Firefox
Version 36.0.1
Internet Explorer
Internet Explorer 11
Safari
10.8 (Mountain Lion) – Safari 6.2.3
10.9 (Mavericks) – Safari 7.1.3
10.10 (Yosemite) –  Safari 8.0.3
Is there an app for IOS or Android?
Yes, there is a Beachbody On Demand app available for android and iOS.
Can I play the videos through multiple devices?
Yup, you can. For example play them on your laptop in the morning, then on your smartphone in the afternoon, and your iPad in the evening.
You can also connect your Roku player, Amazon Fire TV or Google Chromecast.
Here's how to get started with Beachbody On Demand with Roku:
1. Start by searching for Beachbody On Demand in the Roku Channel Store. Add the channel and press OK on the Roku remote to install the channel.
2. You'll next see a screen pop up with a URL and an activation code. Enter the URL into the Internet browser on your computer, tablet, or phone and login to your Beachbody On Demand account. You will then be prompted to enter the activation code. Do so and press the Submit button. The page will then alert you that the device has been successfully activated.
3. Once activation is successful, the Beachbody On Demand channel will automatically launch on your Roku player or Roku TV model.
4. To choose a workout, select the workout program you wish to do by using the "OK" button. Then, choose which specific workout you want to view.
Beachbody On Demand is supported on current generation Roku players, Roku Streaming Stick, and Roku TV models.
Can I start with one workout and then play another from another program before the first is completed?
You can. Play one workout from Insanity, and then another from P90X or Turbo Fire, or Hip Hop Abs…
Is there some sort of a daily challenge competition going on?
There is – the Challenge Du Jour. A special set of workouts that changes daily. Lots and lots of exercises to go through.
Get all Beachbody workouts for just $99
Some additional tips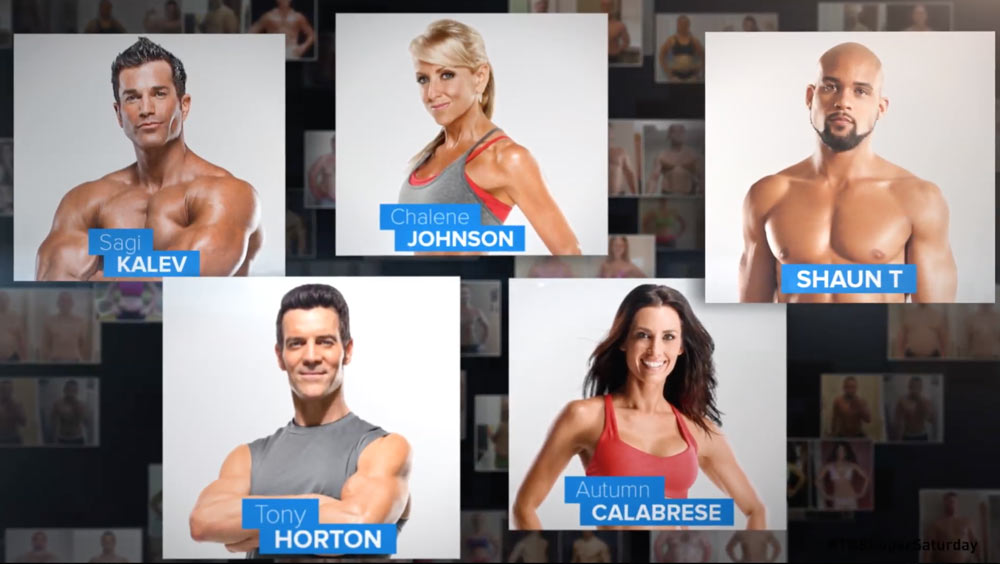 You can, for example:
Start with one workout depending on your fitness level, and then continue with another that supplements it. And there is much to say about which one to choose as your first, and which one as your second.
Most people I know of, that bought Beachbody workouts, almost always made a second purchase.
Migrating from one workout program to another is now far easier – thing is, you can learn more about which one to start with. Here is some guidance, courtesy of Lifestyle Updated.
While you can mix exercises and create customized schedules, my advice is to complete one full set before going to the next. Trust me, this pays off – for you will boost your discipline, while allowing the program to work (like for example not interrupting the process in the middle – changing a program right before results start to show). It also translates in staying more accountable. Then, you can start another workout program.
If you go down the road of mixing workout programs, like for example Insanity and P90X, my advice is to pay attention to two different approaches before choosing which.
– Mixing similar workouts videos (for example both of them being cardio centered, or both of them being strength centered)
– Or mixing complementing workout videos (cardio centered videos from Focus T25, and Yoga ones from the P90X series…)
I personally would go with the first option, till I move closer to my goal, and then change to the second and diversify in order to amplify the results.
As for custom schedules, here are two of them. Being space restricted, I will hold onto publishing more.
Custom schedule 1
Month 1
| | Monday | Tuesday | Wednesday | Thursday | Friday | Saturday | Sunday |
| --- | --- | --- | --- | --- | --- | --- | --- |
| Week 1 | Total body circuit | Lower Body | Yoga flex | Ab sculpt | Total body burn | Yoga flex | Rest |
| Week 2 | Total body circuit | Abs | Lower Body | Yoga flex | Total body burn | Ab sculpt | Rest |
| Week 3 | Alpha Cardio | Lower body | Total body burn | Yoga flex | Total body circuit | Alpha lower focus | Rest |
| Week 4 | Alpha Cardio | Lower body / Abs | Total body burn | Yoga X | Alpha Cardio | Ab ripper X | Rest |
Month 2 & 3
| | Monday | Tuesday | Wednesday | Thursday | Friday | Saturday | Sunday |
| --- | --- | --- | --- | --- | --- | --- | --- |
| Week 1 | Total body burn | Lower Body / ab sculpt | Alpha cardio | Yoga X | Shoulders and arms | Alpha total body cardio | Rest |
| Week 2 | Alpha cardio | Plyometrics | Shoulders and arms | Yoga X | Alpha total body cardio | Ab ripper X | Rest |
| Week 3 | Alpha cardio / Yoga Flex | Plyometrics | Shoulders and arms | Yoga X | Alpha lower focus | Alpha total body cardio | Rest |
| Week 4 | Alpha Cardio | Plyometrics | Shoulders and arms | Upper X | Yoga X | Alpha total body cardio / ab ripper X | Rest |
| Week 5 | Alpha Cardio / Yoga Flex | Plyometrics | Shoulders and arms / Ab ripper X | Yoga X | Upper X | Alpha total body cardio – abs | Finish |
Used workouts:
Total body burn, Ab sculpt
Alpha Cardio, Alpha lower focus, Alpha total body circuit
Abs, Lower body, Yoga flex
Ab ripper X, Plyometrics, Yoga X, Shoulders and Arms, Upper X
Custom schedule 2 – more advanced
| | Monday | Tuesday | Wednesday | Thursday | Friday | Saturday | Sunday |
| --- | --- | --- | --- | --- | --- | --- | --- |
| Week 1 | Speed and Agility | Strength | Power legs | Off day stretch | Back to core | Pure cardio | Rest |
| Week 2 | Vertical Plyo | Strength | Insane abs | Max recovery | Speed and Agility | Back to core | Off day stretch |
| Week 3 | Vertical Plyo | Strength | Ab shredder | Off day stretch | Max recovery | Gameday | Rest |
| Week 4 | Speed and Agility | Strength | Back to core | Power legs | Insane Abs / Ab shredder | Off day stretch | Gameday |
Used workouts:
Pure Cardio, Max Recovery, Insane abs
Speed and Agility, Strength, Vertical Plyo, Back to core, Gameday
Power Legs, Ab shredder, Off day stretch
Closing note of this Beachbody on Demand review
By now you've probably leaned closer to either disregarding Beachbody on Demand or subscribing. My intention is not to convince you of either one, but present all the facts you need, and answer all of the questions that you might have. The hope goes that I successfully managed to do so.
Get all Beachbody workouts for just $99
If you have more questions, the comment section is right below.