Despite all sensory apparatuses, the human body is poorly equipped for perceiving and measuring distance, time, and intensity. Without a reliable tracker, or a marker to compare against, even athletes lack full awareness of their training and performance. Fitness technology, for better or for worse, fills this gap by allowing us to measure the exact parameters of our workout sessions.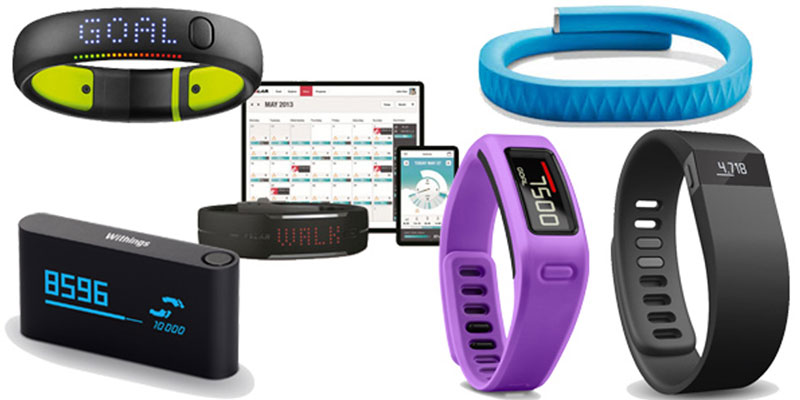 And with technology making unprecedented leaps forward, we get to experience the amazing tools and services. Thirty years ago, an athlete would have given an arm and a leg in order to track data so accurately (Ok, perhaps not an arm and a leg). And fitness technology today, improving continually, has become an inseparable part of how we train in the professional arena, so much so that athletes wouldn't know what to do without data.
But what can you gain by using fitness technology outside of the professional league? Is there a strong consensus regarding the benefits of fitness trackers, and the role they play in performance, behavioral changes, and improved quality of life? Should you spend money on buying the latest gear, and if so where do you start to look?
Benefits of using fitness technology
When it comes to scientific evidence, we have a small pool of studies to draw from. Experience, however, shows a significant correlation between using a fitness tracker and several lifestyle improvements. So let's start with the most obvious…
Personal accountability is dramatically improved when you have a measuring tool. Instead of exercise goals being vague and abstract, you start with an obvious clue. And with a goal as specific as that which fitness technology can measure, it is really hard to persuade yourself you did well, on days when you clearly didn't.
Fitness programs are often boring and repetitive, so no matter the size of your will power, expect it to be seriously challenged. Heart rate monitors, or simple fitness trackers, can therefore make things more interesting, challenging and fun. Besides, with some fitness trackers costing less than $50 and offering tons of features, it is really a shame not to enjoy the experience.
As technology moves forward, new features offer a garden variety of opportunities. You could, for example, enjoy a group dynamic by training with colleagues and friends, where team goals are being met on daily basis, which incentivizes you to stay even more accountable.
While most fitness trackers are concerned with distance, speed, calories and beats per minute, some are accurate in measuring sleep patterns. Small studies have confirmed that people who use fitness technology for monitoring sleep patterns, have measurably improved the quality of their sleep on the long run. So if you are having chronic sleep problems, it is maybe time to consider using a fitness tracker.
If you want to improve your performance, you have to know what you are after, and how your training sessions look like when translated into data. Fitness trackers can teach you volumes about pacing, distance improvements and several other aspects of training for performance. If you invest into buying a decent heart rate monitor, you can even track caloric expenditure and how your body reacts to changes in intensity.
A study has shown that people who use fitness technology (fitness trackers, in this case) are more likely to workout longer per session, and more frequently during the week. So if you want to increase your effort, and speed up your fitness transformation, using a fitness tracker will definitely help.
Tracking steps versus tracking a certain activity
When you observe a chart of caloric expenditure, you quickly realize how our basic metabolism is responsible for most of it. What follows are everyday activities and lifestyle preferences (taking the stairs versus taking the elevator), including but not limited to the way you commute, relax, socialize etc.
A long time ago, I used to believe that pedometers are for people who don't know better. But when you look at the chart of caloric expenditure, you cannot miss the elephant in the room. It turns out that taking a walk in the evening, when incorporated in your lifestyle and over the long haul, can dramatically increase caloric expenditure. The same holds true about the way in which you commute.
So if you are not a fan of intense exercises, but still want to measure and track improvement on the long run, pedometers make total sense.
When tracking an activity on the other hand, you need to access speed as well as distance; even better if you measure beats per minute, elevation gain, current, average and sectional speed.
So when possible, always go after the specific fitness tracker, designed for the activity you are optimizing towards.
Few tips on buying and using fitness technology
Before buying a fitness tracker, you should consider your needs, as well as remember that this is an investment that pays dividends down the road. This being said, always look for a feature rich device, capable of tracking several different parameters.
If you are obsessed with counting calories, buy yourself a hear rate monitor and enjoy the accuracy it provides. Aim for waterproof devices, and consider design as well – you'll want to wear this thing as much as possible, regardless of the occasion.
Mobile apps are also useful, but if you want convenience, style, accuracy and features all in one, definitely buy yourself a dedicated tracker.
Interpreting the data
Unless you develop an optimistic view on your data, you will never be satisfied. It's all about how you decide to interpret each measurement. Giving yourself a slack is lazy, but beating yourself up is even more unproductive.
Keeping a journal is also important, where you can access your data over a longer period. So make sure to record things and keep a file in your computer.
Do remember that behavior changes will eventually follow, and you just have to stick with the plan. The tracker will help in improving your quality of sleep, diet, and eventually physical activity and intensity as well. That's the reason why we've integrated a tracking feature within Fitness Updated (an affordable on-demand fitness program which you can try for free).
So buy yourself a piece of fitness technology and see your progress accelerating in both training and quality of life as well. Here is to tracking your way towards success!