With fitness becoming the new black it is evident that there is a huge discrepancy between what people think they know and what really works. And while many are trying to figure things out via trial and error, there are couple of basic principles that must be taken into consideration.
Knowing these fundamentals of fitness will without doubt lead towards improving various aspects of your fitness routine, hence gaining lot more benefits on the long run.
Let's stop now with the vague rhetoric and get down to business by listing these important fitness elements, and the ways you can apply them into your routine.
Balance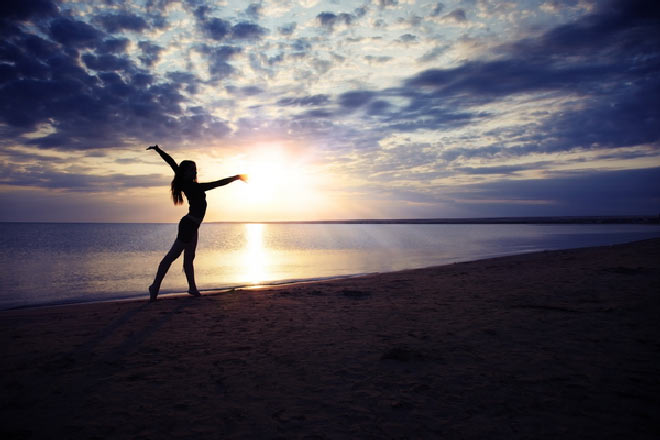 If you thought that yoga will never interlink with fitness in any way, your prediction was rather inaccurate. Many fitness programs are now implementing balance moves and some rudimentary yoga poses with the purpose of strengthening the muscles in a different rather unorthodox way.
Why is balance so important?
The premise is simple really – by trying to balance yourself in various positions and postures, you are in fact activating a lot more muscles you thought never could be activated by anything other than strength workouts.
And not only you are activating these muscle groups, but you are activating the joints surrounding them as well, causing them to strengthen, and therefore save you from injury. Another important thing is that you are activating these muscle groups in a way strength training can never provide for. Namely, the whole of the muscle section is being activated as opposed to the larger isolated areas alone. Wondered why yoga practitioners always looked more athletic in the first place?
In order to incorporate some balance moves, try thinking in the diversity vertical. Single leg stance, low plank, high plank, side plank, T stance, or even more advanced postures and moves like an arm stand.
Tony Horton even created his muscle integration system around the concept of adding balance into every strength move.
Range of motion
Something people thought only athletes are concerned about. But this is not only rooted into performance alone. You see, the more you increase the travel distance your body and body parts make while doing a repetitive movement, the harder the move gets, hence the better the results – Both performance and looks.
The science behind it is fairly simple- it takes more effort, every muscle is being targeted more aggressively by extending the number of angles you engage the muscle from.
This results with even more of a muscle growth, and on a broader scale promotes things like speed, power, explosiveness…
The implementation is beyond simple – go that extra inch, push further, stretch deeper. Above all, try to go slow and extend every movement more and more while maintaining form; which brings us to the next chapter.
Form above all
Form stands for doing the exercise within the limits allowed and prescribed for movement. There is a reason why every exercise aims towards a certain posture, a certain travel distance of your body which we addressed earlier as range of motion.
Do the squats by varying your angle of lowering the back, and you target entirely different muscle groups; same applies for all other exercises, complex or not.
Even more so, lousy form translates into injury or worst yet problems with your posture on the long haul.
In that regard it is better to do one push-up with the proper form, instead of ten where your form suffers due to speed of whatnot.
To implement this all you need is patience. Go slow and remember to repeat things the same way you did the first rep.
Coordination
If you aim for increased agility try to go slowly and sense the rhythm. This will help you achieve control over your body in a way that will prove quite handy when you enter more complex movements and workout patterns.
Coordination, along with form and range of motion lead towards superb agility.
How to implement this?
Try complex compound movements and do them as slow as you can. When you get the hang on each and every muscle group being able to move both alone as well as in combination with others, you will increase the awareness of your own movements. The Insanity Asylum workout solves this by implementing as simple of a tool as the agility ladder.
Flexibility
Stretching improves blood circulation and therefore increases both performance as well as muscle growth. It also promotes improved range of motion.
Flexibility promotes one other important thing – it makes you more able to do other activities related to the realm of physical movement which are not necessarily exercise.
Incorporate flexibility into your fitness routine by stretching right after the warm up and right after the end of your workout session. Get creative with the poses, and do each stretch so that you hold where it feels slightly out of your comfort zone.
Hold for couple of deep breaths and then slowly release.
Speed
Speed makes the cardiovascular system to work more and hence you burn more calories. It also stresses the muscles in a way nothing else can. Make sure you pay attention to all the elements above and then just when you sense you have enough of control, speed things up.
Power and explosiveness
Strength comes from strength training related, but not limited to resistance training, exercises. Paying attention to range of motion and extending each movement with the equal amount of power and resistance is advised, but if you are able to add power and explosiveness by tightening the muscles and adding dynamic in every movement, then you will witness not only increased speed and explosiveness, but muscle growth as well.
Martial artists are a living testament to this fact.
First make sure you have enough agility at your disposal, and only then try to not only add speed but dynamic movements as well.
Strength
That strength comes from weight lifting is probably the biggest fallacy parroted around. Granted, weight lifting is an incredible resource for gaining strength, but there are a lot of other ways as well. Think about resistance training by using your own body weight as to supply the resistance.
Fewer repetitions, harder and more complex moves; Weights are a great plus, but sometimes even your body alone can suffice.
Strength increases dramatically if you pay attention to form and range of motion as well.
Endurance
Go for one minute reps and compound movements- Endurance is best promoted when putting your whole body through the test.
One minute intervals followed by couple of seconds of rest, and then again repeating the sequence; when you do a total of three or four minutes in a row, rest for a minute and calm your body down. Rinse and repeat.
This works for both muscle as well as cardio endurance. The concept is called max interval training and it is promoted by experts such as Shaun T, a former track and field athlete with a degree in sport science, and the creator of the Insanity workout. Or the Insanity Max 30 workout (explained in this Insanity Max 30 workout review.)
By observing these fitness elements, one can come to conclude that sports training is the ideal way to train. That way, in one workout, you are tackling as many of these as you can possible hope, all the while dramatically improving your performance as well as looks.
Image credit: By Tuva F.W and Esrah Boulton