With 2018 almost out of the way, we've decided to take a retrospective look at the best photos of fitness. These are the pieces of content that kept millions of people motivated, inspired and striving to improve. They celebrate health, the human body, its health, strength, flexibility and balance.
Dedicating a full week from our schedule, the four of us have shuffled through hundreds of Instagram accounts and tens of thousands of photos. Leveraging different tools, snippets of code and what seems to be a year's worth of scrolling, we are still having flashbacks of toned bodies, vibrant colors and yoga poses that bend the mind.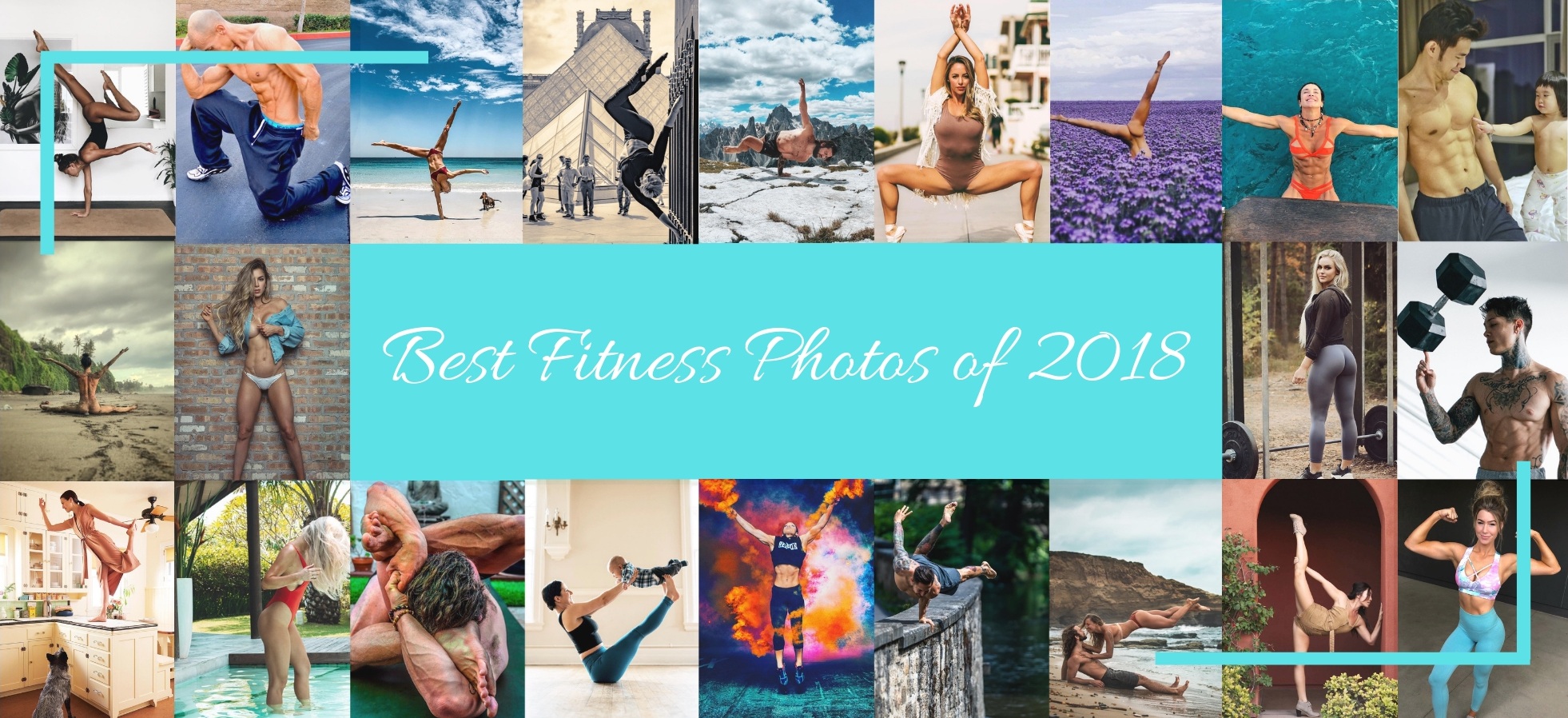 Rules for selecting
Applying a number of criteria, we've picked the best 160 photos. It was a particularly hard task, since there is no shortage of jaw-dropping visual to look at. The rules were:
If a tree falls down in the forest, but there is nobody with an Instagram account lurking by, how on Earth would we know about it? The first rule was simple – find the picture on Instagram.
High number of likes and comments. A good post will always hit the surface on Instagram, so unless photos had 1 thousand likes we kept scrolling. The more likes and comments, the better. However, accounts with millions of followers can post a picture of a flexed muscle and get more attention than expected. For this purpose, we made sure to apply another rule.
Engagement – or what percentage of followers actually liked or commented on the photo. This gave smaller accounts a fighting chance.
We weren't looking at the accounts of currently active athletes in popular sports. Although tempting, it would have meant spending hundreds of times more on the project, and essentially pushing everybody else out of the contest. There are so many different sports, and so many competing athletes… However, this being the fitness contest, we've decided to include CrossFit athletes, power lifters and bikini models.
No accounts with less than 20,000 followers. The logic was that if you have one of the best photos of the year, you definitely produce great content, and thus enjoy a large following. Besides, we had to apply some filters, or you'd be now looking at the best 13,000 photos of 2018.
Photos that vent viral
Photos that marked important events in the fitness industry. So basically everything like controversy, comebacks, and the ones likely to be remembered.
Photos that are not easily copied! We were also looking for uniqueness, the difficulty of the pose, aesthetics and framing.
Photos that communicate; ones that make you laugh or think.
Lighting and composition were often taken into consideration as well. However, given the main goal of fitness content – which is to inspire and motive – we made sure not to make this a professional photography competition!
Some Instagram posts have a great motivational message that goes side by side with the photo. Wherever it made sense, we took notice.
No more than 4 photos per account!
Accounts should to be somewhat related to fitness, health and wellbeing.
Holy patience Batman! Loading these 160 Instagram images can really slow down the speed of a browser. We've embedded each post in its entirety and the list itself is massive, so allow us to offer some apologies upfront!
In general, we were looking at the fit lifestyle. Workouts, selfies, difficult moves, awe inspiring shots… Although modeling and posing in front of the mirror weren't given much priority, we had to include some of these wherever it made sense. If half a million people loved the shot, who are we to disagree?
So, with the drumrolls rolling a minute and a half already, it's time to actually see the content. Listed by without any order whatsoever, here are the best fitness photos of 2018!
Best Fitness Photos of 2018
If you want visual content that is both art and fitness inspiration at the same time, Sjana Elise is the right person to follow. Four of her pictures have found their way on the list.
The one and only – Frank Medrano! This guy is tough as nails, but poses and moves with incredible elegance.
People say that you have to exit your comfort zone in order to become fit, but Cassey Ho doesn't buy that! Why not get fit from within your zone of comfort?
Massy can do whatever she wants, and her photos show just that! Want to be a woman warrior? Follow her!
Nobody loves weights more than Emily Skye! If you want to get strong, just follow this powerful and gentle mama for daily inspiration.
More than two million people like this flag – Which makes it the official flag of the Vin Diesel nation. Salute!
Mathew – always ready to get through the mud. Follow this warrior if you like hardcore fitness.
She entered the fitness world via her YouTube channel, and now she is a legend – the one and only, Adriene Louise!
Come on Zac, three million people are cheering you up! This guy is never afraid to climb to the top. Follow him for some outdoor fitness inspiration.
Evelina is the fitness lifestyle embodied. Style, elegance, strength and grace – she has it all!
The chiseled body of Mr. AthleanX – Jeff is a true fitness inspiration and rumor has it that you'll get into shape just by scrolling through his photos!
Sjana Elise once again, flexing and balancing under the Oahu rainbow.
The fitness goddess Alexia Clark! You too can be strong, elegant and beautiful.
Greg has transformed more people into the Hollywood physique than hundreds of personal trainers together. Follow Mr. Kinobody for daily inspiration, strength, and style.
Bar none, this is the venom mask of the year. Kudos to Frank and @Lexx_fx
Jacquelyn does yoga with style. This is perhaps the best picture taken on Manhattan Beach, California in 2018.
Massy does it again. Where is that hose, because this girl is on fire!
The most adorable tandem ever! He is the family guy who is a true embodiment of the fit lifestyle.
Lauren Findley – cute and stylish, but just as tough as the rock wall behind her back!
One stare and you are convinced to tie your shoes and get to work. Keep up with Jessica and you'll become elite.
The yoga goddess of Instagram! She's taking yoga inside the galleries one photo at a time.
Jason Statham, circa summer 2018. As fit as ever!
Does the thought of lifting weights scare you? Well, Anna Victoria definitely has to say something about that.
Arizona never had more style!
We cannot tell what you've been up to for the better part of 2018. But we sure as heck know about Casey – he's been running. If this guy cannot inspire you to tie your shoes, nobody can!
Just a fitness angel in a heavenly field of flowers.
Sunday is for rest, but you shouldn't forget to stretch regardless of where you are.
Nude Yoga Girl Meaghan Jarensky, New York.
The legendary 3/4 back pose. Two giants on the stage!
Follow her for beauty, follow her for strength, follow her for inspiration – the one and only Cassandra Martin.
Balance in nature at the crack of dawn. This is how you welcome the morning.
Santa was asking for a younger, stronger, and more stylish replacement for years – did he get the job?
Ever read the Art of Expressing the Human Body? – Her picture should definitely be in it!
One word – style!
Mama Yoga Girl saluting the sun…
One of our favorite photos for 2018! Freedom, blue skies, fun and the scent of the ocean…
This is how you wear a one piece Baywatch in red.
Nobody trains harder than the Rock. But not because he is super strong and invincible (which he is!) but because he is the only guy he's comparing himself against. Never forget that!
Surrender to love, and shine as bright as ever!
Hours before hitting Vegas – she is on fire! J Lo, radiant as always.
Good – even this couple knows how to rest! A truly rare picture of Shaun T relaxing next to a hammock – if he can take a rest, so can you!
You earn your body by always looking forward! What's the next challenge?
Nothing can stop Kaisa! There will always be resistance, but what are you going to do – Give up?
Become strong as these guys, but have your confidence as tall as those buildings behind.
The way she moves is pure art. Follow Sarah for some incredible photos that celebrate the human body in motion.
Blending together cuteness and strength.
This is what happens when you try to live by the words of JP Sears.
If you have to describe the fit lifestyle with a single photo, this one definitely does the job.
What you do with your body will ultimately reflect what your body looks like.
Your body can be art that is more attractive than the pyramid of Louvre. Here is the proof.
A true embodiment of the healthy lifestyle, Pamela has a lot to say about nurturing your body, soul, and mind. Follow her for daily fitness motivation.
It takes a strong woman to hold everything together.
Can you be strong, elegant and vulnerable at the same time? Yes you can!
Jordan hitting 500k followers! Here is to infinitely more!
The gym can definitely be your fortress!
This is how you hit the beach!
Santa only rewards those who've been working hard!
This one is most definitely one of our favorite photos for 2018!
The magic of Sierra Nevada de Santa Marta and Rosanna Cordoba. What a picture!
This guy doesn't know what ageing means. The one and only, Tony Horton! He will tell you to always do your best and forget about the rest. You better listen.
Another one of our favorite photos for 2018!
The deeper you go, the messier it becomes. But you still push forward because it's so much fun.
Definitely the most adorable picture of the year!
Jennifer Lopez feeling strong, happy and grateful.
Another one of our favorite photos for 2018. If you had to follow one person in 2019, and download the entire fit lifestyle into your mindset, there is no better pick than Nara Marques!
Can one picture describe you in thousand words? Yes it can – here is one of Kaisa: colorful, sharp, vibrant, alive, strong…
Wanna become fit? Wanna stay motivated? Well, you have to follow Amanda.
The outfit doesn't matter, you must always be prepared!
When art and fitness are blended together – this is what you get.
The Instagram home of fitness and style. Wanna enter? Just follow Hannah.
Can we just download a bunch of her photos and call it a day? No? Well then, how about this one?
She is truly a goddess. So light, elegant, and strong.
If you don't sweat a bucket it doesn't count.
Looking for a photographer! Skills needed: Strong balance, Yoga…
I've been talking with my wife about where she wants to be when we both hit 40 – she said "I don't know where I want to be, but I know how I want to look like!"
You are at the spring of energy, always…
The Buff Dudes always know how to train! Follow them on YouTube for some crazy stunts and challenges!
This girl again… If the fit lifestyle had a picture description, she'd be in it.
Looking for some fitness motivation, style and authenticity – she is the one to follow!
Robert always knows how to capture the true potential of the human body in one picture! Kudos to @lizcorwin as well!
Autumn, fitness, and a crown of flowers…
The super powerful girl from Sweden – maximum beauty and maximum strength!
Balancing at the top of the world…
Talia is an artistic soul inside of a strong and flexible body.
True art! One of our favorite photos for 2018!
Style and power inside one body – Hannah Bronfman ladies and gents!
Loving and celebrating the human body for the art it really is.
This guy again – you cannot move your eyes away!
Sandra is another woman warrior that you just have to follow for daily inspiration.
Talia doing some artistic expression with her body.
The colors of Kaisa – the fit lifestyle can be a rainbow of colors, and all of them collide together once you start moving your body.
What does the sun represent to you?
Strength, balance and some serious determination!
Whatever comes next, just make sure to hit it hard!
She is one with nature, always…
You think it's hard? Try doing it on sand!
Excuses are nothing!
When the floor is your wind tunnel…
Casually amazing! This is how you do gymnastics yoga with style.
Train hard and you'll look just like her – better yet, she'll show you how!
Wherever there's nature…
Power and elegance blend again.
Move. Always. With grace, intention, and control…
Definitely one of the most impressive photos of the year!
Buff Dude Hudson broke his ankle. But he'd never quit! Here is to a speedy and buff recovery!
A true embodiment of the fit mama lifestyle. We cannot get enough of this photo!
Gymshark represent!
Sandy beaches, style and incredible shots – here is Nara once again.
Strength and balance, cause you cannot go anywhere without both!
As toned as it gets! These two are as tough as nails.
Bending the mind once again!
Her photos are jaw-dropping and ultra-cute! If you want to follow the fit Hawaiian lifestyle, there is no better account to follow!
One and only, Simeon Panda!
You can transform too! It is what you are underneath that defines you.
Never constant, always changing, always moving… Art can be still, but life is all about motion.
Follow Michelle for her jaw-dropping body, style, elegance, and most of all positive energy.
Levitation unlocked! Now go and do some art.
Be proud and grateful for your body. Always!
Captivating as always…
To fly high you must first dare to let go and actually try.
The barbell is your friend!
Super strong and super graceful. Never forget to move, lift, jump, and run with ease. One of our favorite photos for 2018!
Follow Sophia for some daily dose of inspiration.
Always be yourself – strip everything else and accept whatever remains!
The stronger you are the more graceful you become!
Getting back into the game after 8 months! We've missed you. Here is to new videos and new challenges!
Once again, a true art from and one of the most exceptional photos of 2018!
Never tired of looking at this picture!
Transforming your body takes effort, patience, and willpower.
The world is your pole! There is never a shortage of opportunities to move and use your body in order to create art.
Hard work pays off. But you always have to keep working!
The fit lifestyle is also about elegance, beauty, and love.