Turkey and chicken meat are consumed all over the world. Though both are classified as poultry products, and are good sources of protein, there are a few subtle differences in their nutritional value. It also depends on how these birds were raised and fed. In other words, organic meat is always the better choice for your health, especially in the long run.
Both have positive and negative sides, so that's the reason why sometimes it is difficult to say for sure which one is better for you and your diet. But, rest assured, we did our research, and found an answer to your question. Before we continue, just a small reminder that you'll need to decide what the goal of your diet is before deciding the better choice between chicken vs turkey for your diet.
Turkey or chicken?
When we are thinking about turkey, the first thing that comes up to our mind is Thanksgiving. But it seems like this bird is better for your health than the old-fashioned chicken. On the other hand, chicken meat has more protein, making it a better choice for those who work out. So, let's analyse the difference between turkey and chicken meat and help you decide which one you should choose.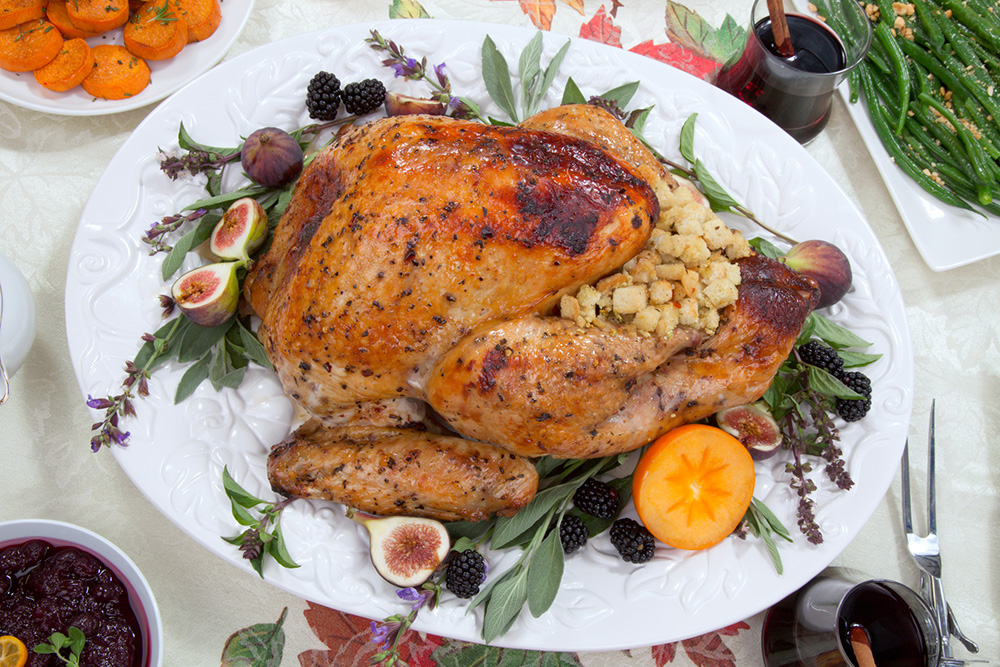 1. Calories
When it comes to calories, the difference between turkey and chicken meat is negligible. For example, a 3-ounce chicken breast has about 130 calories, while the same amount of turkey breast has 125 calories. This makes both types of meat a great choice for those who want to lose weight. And if you want to keep the calories to a bare minimum, you should grill or roast the meat without skin (which by the way makes a noticeable difference).
While we are on the topic of losing weight, talking about calories and protein, here is a great idea – if you want to lose weight, fast, you might want to try the hard boiled eggs diet. It's easy to follow, quite affordable, and you'll see results in less than two weeks.
2. Fat
If you want your diet to include low-fat meats, than you cannot make a mistake with poultry. But is turkey leaner than chicken? When it is turkey vs chicken, the turkey goes home with the trophy. For example, a 3.5-ounce chicken breast has about 4 grams of fat, while the same amount of turkey breast has about 2 grams. This may seem like a small difference, but on a long run, it can have a huge effect on your health.
3. Protein
What has more protein chicken or turkey? For equal serving weight, chicken breast contains almost double the amount of protein. This high protein content helps in more ways than you can imagine, especially for protection against bone loss in the elderly. And when it comes to turkey vs chicken for bodybuilding, then you already know the answer – chicken will help you build muscle much faster than turkey. So, in this category, chicken meat is our winner.
4. Sodium
When it comes to sodium, chicken meat is much more preferable than turkey meat. Chicken has one-tenth of the sodium contained in turkey, making it a better choice for people with hypertension or those on a low sodium diet. Also, sodium helps maintain fluid and electrolyte balance in the body, but only if it's consumed in moderation.
5. Calcium
If calcium is what you need, then turkey is better source than any other meat. And if we compare it to chicken, there's almost a 200% difference. For example, 3.5-ounce turkey breast contains 32 milligrams of calcium, while in 3.5-ounce chicken breast contains 11 milligrams.
6. Vitamins and minerals
This is where things get tricky. It's almost impossible to choose the winner from chicken vs turkey if you think only about vitamins and minerals. For example chicken is an excellent source of vitamin B6, phosphorus, niacin and selenium. On the other hand, turkey is an excellent source of riboflavin, vitamin B6, iron, niacin, phosphorus, zinc and selenium. As you can see, they have some similarities, but most of the vitamins and minerals they contain are different. This makes them better for different situations.
Turkey breast nutrition per 100 grams (cooked)
Calories – 153

Fat (total) – 1 g

Cholesterol – 0 g

Sodium – 65 mg

Potassium – 0 mg

Carbs (total) – 0 g

Dietary Fiber – 0 g

Sugar – 0 g

Protein – 34 g

Vitamin A – 0%

Vitamin C – 0%

Calcium – 0%

Iron – 0%
So, is it going to be turkey or chicken for dinner? When it comes to your diet, turkey meat will be healthier on the long run mostly because of its lower fat content. Also, keep in mind that turkey meat has more nutritional benefits than any other meat, so it's the best choice if you eat meat every day. And if you want to make sure that your diet is really healthy, then you have to combine turkey meat with a lot of vegetables.
On the other hand, if you are searching for a better bodybuilding diet, then chicken meat is the absolute winner. With its high protein content, it can help you advance your fitness level faster than you can imagine. Strenuous workouts tear down the muscle tissue, and it needs repair. Needless to say, the more protein you can manage to squeeze in into your diet, without increasing the number of calories significantly, the better.
For weight loss, it doesn't make any substantial difference in terms of calories. However, more protein is always better – so yes, go with chicken. But, if your goal is specifically focused on weight loss, then definitely read our Lifestyle Updated guide on how to lose 10 pounds in a week. It is one of the longest guides that we have ever published, and it is covering everything you'll ever need to drop down a lot of weight in a single week.
Simple roast turkey/chicken breast recipe
It doesn't matter whether you chose turkey or chicken, we have the best recipe for you. It contains a lot of spices and vegetables, so it may be a great start for your healthy diet.
Ingredients:
3 pounds turkey breast or chicken breast without skin

3 tablespoons extra-virgin olive oil

1 teaspoon salt

1/2 teaspoon parsley

1/2 teaspoon mint

1/2 teaspoon basil

1/2 teaspoon curry

1/2 teaspoon freshly ground black pepper

1 lemon

2 tablespoons corn

2 tablespoons peas

2 tablespoons carrots, cut into small circles

1 pound broccoli crowns, cut into short spears

1 tomato
Instructions:
Preheat the oven on 410 degrees F.
In a small bowl, combine all the spices, and then rub the turkey/chicken breast with the mixture. Make sure the entire surface of the meat is covered. Put the meat in a roasting pan, and add the olive oil with some juice from the lemon.
Roast for 35 minutes, covered, and then for another 5 minutes, without the cover on – every oven is different so make sure that the meat is golden brown before taking it out.
While the meat is cooking, you have time to prepare the vegetables. The healthiest option is to simply steam them. Add a few inches of water to your saucepan and insert the steamer basket. Bring the water to boil and then add the corn, peas, carrots and broccoli. Let them cook for a few minutes. They are done when you can easily pierce the thickest part of them with a knife.
All that is left now is to cut the fresh tomato into circles.
Cut the meat, and serve it with the steamed vegetables and the fresh tomato. If you are a big fan of lemon, you may add extra lemon juice over the meat.
Bon appétit!