Spin bikes are the stationary bikes typically found in most gyms and other kinds of training centers. They are supposed to give you a full-body workout. Additionally, they are considered to be highly effective at improving the strength of shoulders, abs, calves, thighs and hips. However, how good are they really? Well, this is a rather complex topic, so keep reading to find out more.
Impact of Spin Bikes on Muscle Growth
Using a spin bike means having to use your legs to generate the power, irrespective of what your aim is. Of course, this is certainly a good way to start. However, if you really want to see muscle growth in your legs, you need to use it properly just like any other training equipment.
Some believe that training on a spin bike for a minimum of 3 sessions of an hour each and every week is just about enough to get noticeable results. However, in reality, there are several factors that will affect the results you see.
The Training volume: The training volume is the number of reps and sets for each body part. Of course, the more sets you do, the better the outcome. However, you must always reduce the frequency of training if you increase the sets. If you don't, you'll put your body at serious risk instead of growing muscles.
But what does this has to do with spinning a bike? Well considering the fact that spinning bikes offer a different type of exercise as opposed to an old-fashion set and rep training session, this means that you can increase the training volume in three different ways:
Time spent on the bike
Intensity – which essentially translates into speed or added resistance
Different body positions as to increase the resistance or target specific groups
The Nutrition: Of course, you should never neglect the nutrition aspect when training. The type and quantity of food you eat will affect your training regimen's intensity and time. For muscle growth, a diet of lean proteins, healthy fats, and complex carbs is recommended.
The Recovery: The recovery time varies among people. It is also affected by the type and intensity of training. Your muscles must get enough time to recover before you hit the spin bike again. Three sessions per week, therefore, are the sweet spot.
What muscles are used during spinning bike workouts?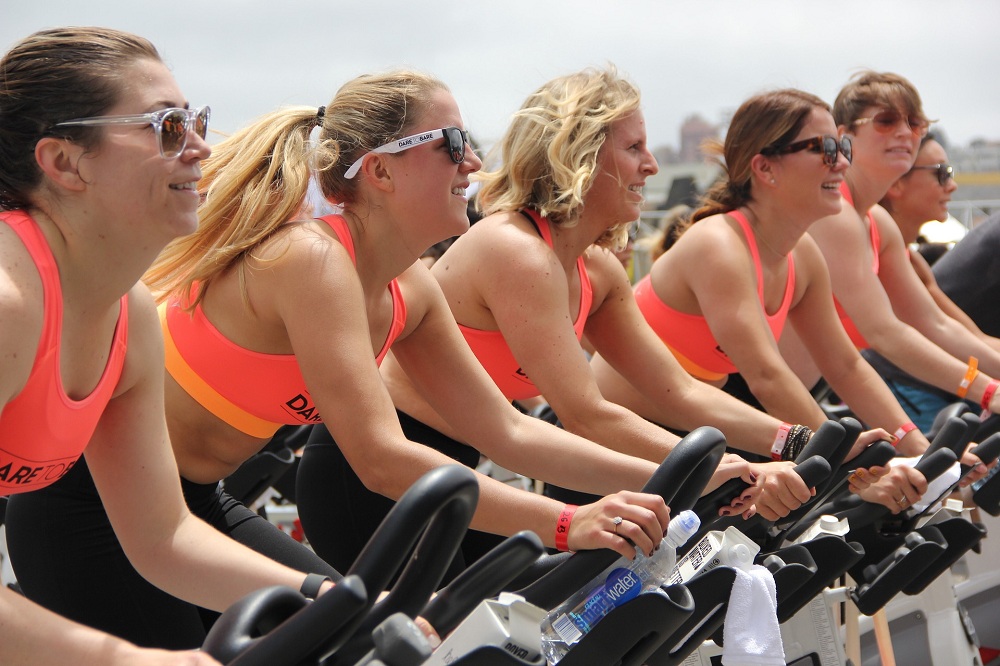 Even though many people are fixated on the idea that spinning bikes improve leg strength only, the range of benefits is relatively broad when you consider the number of muscle groups that are being engaged.
Abdominal muscles
A spinning bike workout will activate your entire core, even without assuming a standing position while you cycle through the workout laps. If you switch between a standing and an upright position, the core will get plenty of workout as well. This will inevitably strengthen your entire abdominal area, and especially the lower abs.
Glutes, hamstrings, quads, and lower legs
If you focus on climbing hills workouts, then your quadriceps will take most of the punch. The hamstrings will be activated throughout the entire session, and the glutes will burn with every turn of the knob, as you increase the resistance.
Forearms
Gripping the handles will activate your entire forearm, and you will see noticeable changes within a month. Apart from functional strength, you will have a more defined and chiseled forearm. Who doesn't want that, right?
Back
The multifidus and the entire lower back will get a heck of a workout with every spinning session, and you will gain plenty of functional strength as you strengthen your entire lower back.
Biceps and shoulders
As you push through each workout, you will also feel a burn in your biceps and shoulders. Don't expect a noticeable growth in this department, but definitely look forward to a set of toned, defined and chiseled biceps and shoulders.
How does cycle training compare to weight lifting?
While it is no secret that weight lifting is the single most effective way of training for increased muscle mass, it is relatively unknown to what extend it is favorable in comparison to other types of fitness.
One study published in the Acta Physiologica Hungarica states that cycle training might require a longer period to significantly increase muscle size compared to typical resistance training due to a much slower hypertrophy rate.
But do note that a single cycling session will provide plenty of more benefits than simply increased muscle mass – namely, an improvement in cardiovascular fitness, including endurance.
Common Features of Spin Bikes
Before moving on, let's consider some of the features of spin bikes.
Most spin bikes come with reinforced pedals which can support people of different weights and heights easily. Moreover, they are necessary as people will mostly be standing up when using spin bikes as some of the sessions require an upright posture in order to be more intense and effective. For the same reason, some spin bikes will not offer a padded seat.
However, the handlebars are typically large and textured. This maximizes the comfort during use while protecting your hands from sores and blisters. In fact, spin bikes offer a largish and solid frame. This allows the bike to remain stable even when you are intensely working with your hands away from the handle.
Spin bikes may also offer a display console for tracking various kinds of fitness data. This may include distance, calories burned, pedal strokes, the time and difficulty level. But it is best to avoid being preoccupied with the stats, at least throughout the duration of your training session.
The Top Spin Bikes in 2019
If you want to maximize the results of using a spin bike, here are some the top options available right now. You can also check our growing selection of some of the best exercise bikes on the market. Make sure to bookmark the page as more reviews are being published as we get our hands on different models of bikes.
Peloton
This is easily one of the best spin bikes available right now. It is particularly useful for those who like spin bike classes. With the Peloton bike, the classes will come home. It offers a touchscreen, sweat-proof of course, where you can live stream as many studio classes as you prefer. There are more than 5000 workouts available on demand.
The bike offers a smooth ride and the belt drive is rather quiet. Resistance level can be easily adjusted thanks to a convenient knob, and the brand itself speaks volumes about the durability of the frame and parts. Moreover, on purchasing, a team of professionals will visit your home to assemble the bike for you, ensuring proper placement.
ProGear 100S
If you are looking for a spin bike that does not break the bank, but comes without any compromises, this is the one to choose. Despite being an affordable choice, the bike doesn't cut back on features.
This spin bike offers a 22-pound flywheel. It is sturdy and heavy enough for those intense workouts, and you can switch between one body position and another without compromising stability. The bike also comes with an LCD computer which can display a variety of data including your pulse. Assembling it is easy and you can quickly adjust it to your height.
Keiser M3i
Sitting on the other end of the budge scale is the Keiser M3i. If you have the money to spend, I'd recommend this without a doubt. It comes with all the features that you expect and want in a truly high-end spin bike.
Bluetooth is included and it allows the bike to connect with a selected range of heart rate monitors. Moreover, you can even connect to a 3D virtual training system. One of the best features, however, is the eerily silence of the ride, all thanks to a magnetic resistance system.
Sunny Health & Fitness Pro
For a comfortable and effective workout, you need the bike to match your specific proportions. With this spin bike, that is a breeze. You can make a variety of tweaks to get that absolutely perfect setting.
The handlebars and the seat can be adjusted for height. Moreover, the seat, which is leather padded, can also be moved back and forth.The bike comes with a chrome flywheel of 40 pounds, which is enough to supply the resistance even for professional athletes.
If you are in the market for an exercise bike, make sure that it has all that you need. Use it correctly and you are sure to notice muscle growth rather soon.