This is a review from the mini-series we are currently publishing, of the Insane Abs workout from Insanity, a Beachbody release. The goal of this series is to familiarize you further with different workout videos from the Beachbody programs, so you can combine them better when creating customized schedules within the Beachbody on Demand platform.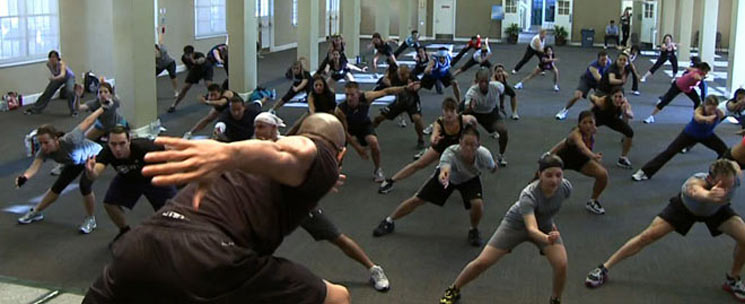 You can also see our extended Beachbody on Demand review for additional information.
Insane Abs is one of the most innovative ab workouts ever created. It is a volatile mix of cardio and ab centric moves that drains fat from your abdominal section, while strengthening your core.
It is not, in the strict sense of the word, an ab workout only. Ab workouts, by many measures, are quite short. And this one extends far beyond what you would normally expect for an ab workout.
Here is what you get with Insane Abs that is not otherwise included in other similar workouts.
Long duration- over 40 minutes
A lot of cardio moves as to warm you up
Ab specific moves that incorporate low resistance, but go in a very high number of reps. The exercises fit within a minute, and you do as many of them as you can
Stretching sequences
Jumping moves, very unorthodox planks, repetitive and innovative contractions, range of motion…
Insane Abs is a workout that targets your abdominal sections, but also your laterals, thighs, shoulders, arms… It is a workout that will make you sweat a lot, and incorporate more cardio elements than you would expect from an ab workout.
If muscle definition is your thing, and especially having a lean and well-defined stomach, then this is for you. You will also gain a lot of core endurance, and core strength respectively. Besides, the range of motion and compounds movements that repeat over and over, will improve your athletic performance overall. This is a workout for defining your whole body, while highlighting the ab section. Beachbody, and Shaun T too, have created many ab workouts before and since, but nothing quite like this one.
If you are putting together a program with the intent to burn a lot of fat, while targeting your core even more, this is a must have workout on the schedule. Once per week is enough and you can even combine it with some other low effort regimen as well. Some resistance moves will come handy if scheduled prior.
Did I mention that it is a lot of fun? Cause it is- somewhere in between cursing and fainting, you will have a smile on your face.