If you've read our reviews about Insanity and Insanity Max 30, you know that you are facing an uphill battle regardless of which one you end up choosing. I did the original Insanity workout almost three years ago, and went for another round some months after that. It was the hardest challenge I faced in my adult life, and certainly one that transformed me – Both physically, and mentally. Oh, the happy days.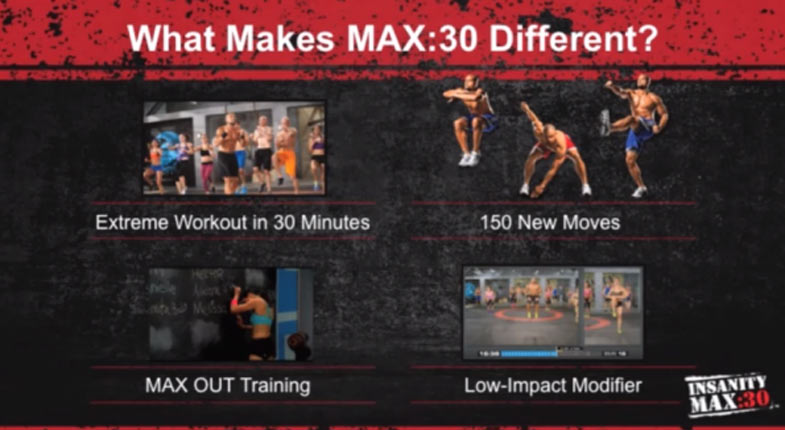 But the original Insanity workout is not the type you chose if you want to do maintenance of your shape every now and then. The thought of going through one session wears you down even before the workout starts. Suffice to say, this is not a keep-in-shape type of workout.
One month prior of me writing this, Beachbody launched a new version of the program called Insanity Max 30. Our readers asked, and we answered with another review. Only this time it wasn't me doing the heavy lifting, but we hired help from outside. Sandra, a friend of ours and a seasoned fitness enthusiast, stepped forth and started Max 30 for the purpose of writing the most detailed review for Lifestyle Updated.
However, it turns out that readers weren't happy enough to only learn about this exercise program, but rather wanted to know how it compares to the Insanity workout. The name, the trainer, the company… they are all the same… So what is different?
This review delves somewhat deeper into the similarities and differences, pointing out where they start and where they end. Though for that purpose I needed to try the workouts separately one by one. Evaluating the two programs, here is a head to head comparison. Just scroll and read, you don't even have to put your running shoes.
Insanity vs. Insanity max 30 – the basics
Ok folks, one item at a time.
First of all, what these two workout programs aim at?
If you try to match the marketing with what is really happening after you push the play button two things become rather apparent- these workouts are primarily designed to make you lose weight, and to be hard as hell when you go through them.
As a side effect- still following what they say in the marketing- you will improve your performance tenfold, and even gain some muscle too. So, it is safe to conclude that the goals are basically the same.
Ok, we move on…
What about duration?
Here is where the first difference is greatly felt. Both go on for 60 days at a time, but Insanity Max 30 follows somewhat shorter path to get there. Namely, whereas the original Insanity workouts can go on for forty something minutes to even an hour, Max workouts last 30 minutes each.
Not only that but you get weekends free, a huge relief if you ask me. The muscles will get more time for rest, and the psychological edge is dramatically different as opposed to constantly being harassed by grueling routines.
Needless to say, this makes Max 30 a hell of an upgrade.
What are the main principles of training behind each?
Whereas Insanity relies upon the max interval training method, Max 30 introduces the maxing out concept of training. Basically, we are talking about a train-till-failure approach that wears you down faster, making you lose more calories, and stressing the muscles with more intensity in a shorter time frame.
The results are open for debate, but it seems as though Insanity Max 30 forces you to abandon your comfort zone way quicker and way more often, hence working on your weaknesses, so you can progress faster.
Needless to say, it is that much harder.
What about those that can't follow the beat, and find it hard to catch up?
Depending on how you like to see it here lies the big difference for some. While Insanity offers no alternative to complex moves, Max 30 gives you plenty of modifying to each exercise.
This is also open for debate. When I first tried Insanity Max 30, I wanted to ask Sandra to include something else in the review- a warning actually. You see, given the modifier, I opted out for the easier version the moment shit has hit the fan. And I have plenty of fitness experience under my belt. Imagine those that hardly recognize their limits and capacity… They will opt out even sooner and far more frequently.
The thing is to be objective. Sure, Max 30 makes you abandon your comfort zone way sooner, but it is all worth for nothing if you take up a modifying move the moment it gets ugly. A word of advice, try to avoid the modifier till you max out for the first time. Once you write your max out time down, and then look for the "easy way out" if it comes to that.
On another note, Max 30 offers you alternative where Insanity makes you take a break- Gotta count for some.
Price, availability, perks?
Yup, all included in both. Max 30, same as Insanity, offers the same price, gives you a free T-shirt once you send them pictures of your half naked body, and promises to return your money if you wine about the program not working.
Oh, and both are available in UK, as well as the United States.
The workouts- what is different?
Everything, actually- Max workouts include entirely new moves, and are mostly harder (measuring this both in how you feel during, and after the workout). Another thing that is different in Max 30 is the way it goes about strength and resistance moves. First of all you have more of them, and some are way more strength centered. Combined with the short but efficient bursts of maxing out, it is very easy to spot the reason why Insanity Max 30 can make your muscles more pumped.
They are shorter, as we already mentioned above; Follow a similar uplifting beat; and Shaun T and the crew are way more engaged, making you more adrenaline driven in turn.
Max 30 workouts include Tabata style of training too. You can visit the Insanity Max 30 review to learn more about each workout separately.
What about the overall structure of the calendar?
While they both stretch the length of 60 days, Max 30 gives you free weekends, and much less time actually spent working out. On a broader scale, month one is similarly less intense than month two, when new set of exercises is being introduced.
What about nutrition, is something different?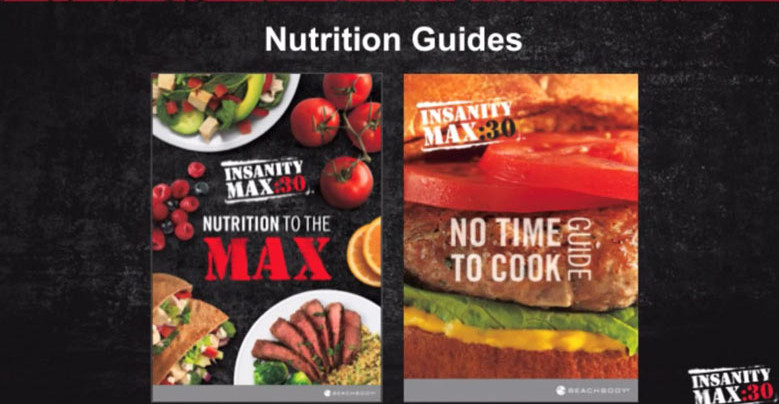 Although you get a nutrition guide to follow throughout the program, you can still decide to eat by your own rules. The nutrition guide, same as with the original Insanity workout, is designed to educate you about healthy eating, and provide the necessary backbone for you to install balance in your diet.
As with The Insanity workout, you can chose to skip the guide altogether, and simply pick up a thing or two. This is the reason why Sandra didn't put so much attention on the nutrition part while writing the Max 30 review.
What is slightly different though, given the fact that Beachbody gets a lot of feedback, is that the guide that comes along with Max 30 offers more pragmatic and no-brainer approach than the one given with Insanity.
Why Insanity Max 30 instead of the original Insanity?
There is not a definite answer that tells one is better than the other. It's all about how you like to approach fitness. If you want your weekends free, and workouts short, then it's a no-brainer really.
If you want slightly less intensity throughout, instead of maxing out in less time- then the original Insanity workout.
If you want more fat tissue melting without the fear of burning down muscle as well, then go with the harder and shorter version- Max 30. If you want to drop sizes way more quickly and way lower, the original version then.
If you ask me, if I had to do it all over again, I would opt in for the Insanity Max 30 since it offers me less time spent working out, and way more resistance oriented moves. And since nowadays I'm thinking about putting some extra bulk, it will definitely give me more relaxed sleep knowing that I'm not burning any muscle by working out an hour or more.
Both are almost the same in terms of results, you will just have to follow your preferences about how you like your workout.
Here is to digging deeper or maxing out!