Putting routine under close scrutiny we can, with somewhat of a certainty, predict various aspects of our lives. We can know, or guess fairly closely, how something is going to pan out if the wheel keeps spinning the same way over and over. Free of divine interventions, or some really unexpected twist, we can vouch with certainty nine out of ten.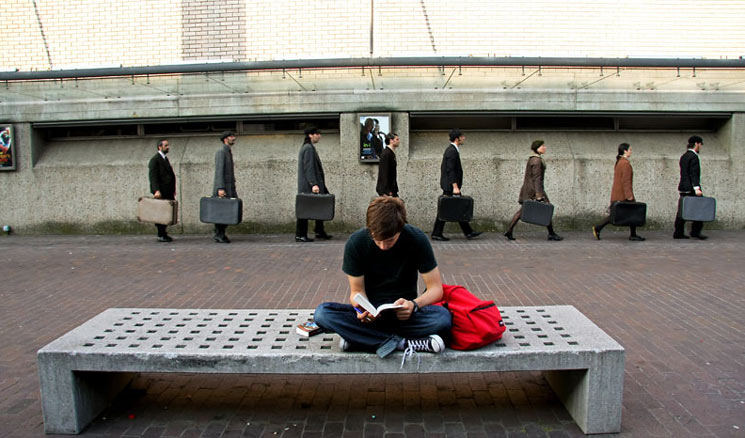 And this was true for decades and generations behind. It was true even years back, but certainly less true as everything around us changes at a rapid clip and transience becomes more dominant factor in society. But I digress.
The point which I'm trying to hint at is that regardless of the fact that routines predict the outcome, we must adapt to change. Not any particular change, not a specific singular trend. No. But change as a concept, as a more and more tangible one. Change as a factor in our lives.
I've taken to calling it plasticity. Of behavior, of routines, of character; or simply, plasticity.
How routines and change can coexist
A concept I learned from a friend of mine, who almost deliberately seeks change. He made change not haphazard, not an occurrence, but a permanent segment of his life.
The lack of routine and permanence on the other hand, led me to discover some disturbing cycles in behavior. So taking his concept of deliberate change, and my strong appreciation for the routine, I constructed plasticity of another kind. Where change itself, becomes a routine.
If you question the need for having a frame, a routine, read what is by far the most personal article that I've ever wrote.
But change too offers clues to a more fulfilled life.
Every change represents an obstacle, a challenge you must step over, thus improving yourself in the process
Every change invites novelty to your life. Which translated in vernacular means diversity, fun, out-of-the-door-and-never-come-back boredom
Every change has a deep and profound impact over how you perceive something
Here are three incredibly efficient routines that I've put together, which will give you increased plasticity all the while keeping you within the frame of discipline.
Plasticity Instalment #1: A book
Every book encourages a change in perception. It is a medium, so fine-tuned, so nicely compressed and packed with substance that you can take it as a prescription of sort.
Every book represents change. And as you consciously decide to read it, it stands to represent deliberate change, forced change. Here is how to upgrade it to forced plasticity- One book, every week- a simple concept that forces change into routine. That makes change itself a routine, or vice versa if you prefer.
-The plan? –Make sure you have a title to read one or two weeks ahead of schedule.
Plasticity Instalment #2: A workout program
I cannot guess your level of fitness so here is a program that can accommodate fitness veterans and beginners alike- Focus T25.
Why a fitness program, you probably ask? -Again, simple. A fitness program, like the Focus T25 workout, puts you in a routine of doing more and less demanding physical challenges. Observing it hand in hand with change, it invites a garden variety of physical and mental stimuli on daily basis, improving you in various verticals.
-The routine aspect of it? Well, it is a fitness program.
Plasticity Instalment #3: The bracelet
Wait till you hear this one, probably a favorite of mine; and simple, too. You start by putting on a bracelet- Something that you will be comfortable wearing for the next 21 days. Here is how it works.
You decide to quit a negative habit of yours, or ensure you are practicing a positive one; from naïve ones as biting your fingernails, to far more substantial ones as not knowing when to say No, or making sure you are practicing the guitar.
The process is quite simple. You need to change the bracelet from one hand to the other whenever you break the streak of successful hours or days in a row, where you suppress that negative habit of yours, or repeat the positive one.
-The goal? -A 21 day streak and then you change your focus on another habit, and another, and another- thus routinely practicing plasticity as much as you can.
(Depending on what motivates you- the carrot or the stick- you can see if quitting a negative, or reinforcing a positive habit suits you better)
Get comfortable being uncomfortable
The routine makes sure you are constantly challenging yourself, pushing the envelope, getting slightly uncomfortable. And we expand, grow as a person and improve, in direct proportion with the amount of discomfort a certain challenge brings along.
The thing is that sometimes we are not entirely ready for the amount of discomfort a challenge, a change itself presents. Therefore, applying this strategy of deliberate change, forced plasticity through routine, we make sure we are practicing slight discomfort, and the need to adapt, on daily basis. Repeated just enough, we will become comfortable feeling uncomfortable, and enjoy and grow in the process.