I often see this line where people diverge in terms of how they feel about setting a New Year resolution. While some are more than eager to wrap their heads around what the best New Year resolution ideas might be, others regard them as conceptual clichés, nothing that needs to be taken seriously.
At a glance, it may have to do with past experiences. Breaking one New Year resolution after another creates this crescendo of regret, so avoiding them altogether doesn't seem as such a bad idea. But despite these realities, optimism matters. The idea that you can do something now, differently than before, is strong enough to sink deep and convince you to try yet again.
The significance that we attach to Monday, or the first of the month, speaks to our devotion to starting anew. It seems as though the calendar can offer a huge psychological advantage when it comes to embracing change. Without going on to further argument this rather simple concept, I have on my mind some unusual, yet viable, New Year resolution ideas.
Create something
When you think about the grand total of what you create versus what you consume there is this 'aha' moment right there for a second. The sudden realization that almost all things in your life converge towards the same end – to serve you in one way or another. The paper that you read, the lunch during break, the music, games, books, TV-shows and whatnot… And from this comfortable place, you can never tap deep into your talents, passion, who you really are.
That this is an overstatement I'm very aware, but it doesn't change the fact that contemporary society has robed us from one of our deepest longings – the need to create. And this plays havoc within our human nature.
Do something. Write a poem, sing a song, learn to play couple of chords, bake a cake, plant a garden. Naïve as this might sound, you will love the results.
The three lists
If you are a fan of Tim Ferriss you probably already know this one. The idea is rather simple. You make three separate categories and write down, in each one of them, four things only. The categories are as follows:
To have
To do
To be able to do
Only as to demonstrate I will put, in the first one, a brand new Canyon mountain bike; in the second one, strengthening my online projects; and in the third, be able to skate on the ice a pro. The point of the New Year resolution is to resolve to make these things part of your reality.
Doing instead of being
Opposing to what I wrote above, this one is rather simple. If you ask the average Jane to share her New Year resolutions, she might as well pass you along a wish list. And there is nothing wrong in having visions and goals per se, but what usually ends up getting you there is actually doing something.
So instead of saying 'I'm going to land a better job' or 'I'm going to find a great girl', try "I'm going to become the type of person who employers would love to hire"; "I'm going to become the type of guy who will attract this great girl". Our actions end up shaping our reality, so why not start there?
The right book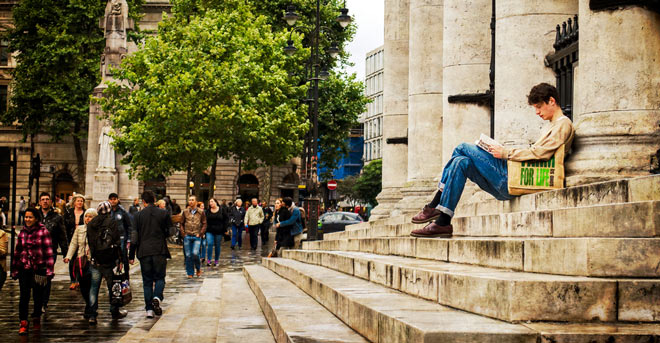 Browse through your role models; ask your friends, your colleagues… What is the one book that they've read that influenced them the most? Once they share a title, go to Amazon, make an offer, and start reading. A good friend of mine recommended Alvin Toffler to me. Today, how I feel about certain topics is entirely different thanks to this. It is cheap, it doesn't cost time either, and the ideas that can come out of it are maybe going to reshape your life.
Mentors
Where I personally excel is finding the right people from whom I can learn. So I came up with this very unusual New Year resolution idea. I picked up ten people who possess either the knowledge, or the qualities that I want to acquire for myself. Once the list was done, I started following them – read their books, listen to their podcasts, interviews, lectures, opinions on subjects that concern me. So far, this little experiment has reshaped segments of my life in ways I never really considered possible.
Seth Godin's idea
By contrast to the one I just shared, this idea relies on you doing the recommendations. You start by choosing three people, some that play rather vital roles in your life – be that friends, colleagues, significant other – and buy them each three books as a gift. Each of these books is one that personally affected the way you think, work, or feel about something. What this will consequentially lead towards, are many interesting conversations. And this is something hard to put a price tag on.
The 20 minute exercise
Make a resolution to set aside 20 minutes out of each day in order to do something you resolved to achieve. I've found that even though I sometimes dread writing, sitting before the blank screen with the cursor blinking, I usually end up writing something. Is it good? – Of course not; Most of the time it is so ugly I must force myself in order to read it. But, when you throw tons of garbage at the wall, once in a while, something will stick.
Showing up day in and day out, whichever way you try to spin it, shows to be a winning proposition. And having the time frame already set, it gets way easier. I dare you to do nothing during those 20 minutes. You can also try the 21 Day Fix workout, read more in this 21 Day Fix review.
The one product

Similar to the idea where you look for the book, here you are on a search for any product that comes to mind. Being a fitness addict myself, I would recommend something that has the potential of improving your health, looks, and in all seriousness, your life. Not living under a rock, you've probably heard about the Focus T25 workout, and if by any chance you felt it might be interesting, check the Focus T25 review that I wrote. The list of product ideas can really go on without an end, so give it a thought.
Exit your comfort zone
Another one where you can let your imagination roar still further. Things you never seemed confident enough to tackle; 30 day challenges, something you tried but somehow decided to throw in the towel… Here is yet another recommendation – cold showers – Every day, for the next 30 days, a 5 minute shower that will make you want to scream. What this does, is making you get used to the idea of exiting your comfort zone both dramatically, as well as frequently. In time, it will translate into more composure, as well as lack of fear (which is almost always unrealistic) for trying new and uncomfortable things. And once you start taking those showers daily, the melody behind what is comfortable and what is not will slowly start to change.
Find the perfect antagonist for your work
If you offer your focus entirely to what you hope to achieve, certain point comes where frustration usually kicks in. In order to avoid this, and at the same time do something productive for yourself, add an opposing side to it.
Say you are a musician, practicing for hours at an end. Great idea here is to maybe go swimming in the afternoons or evenings. I know a guy who took up surfing in order to shift the focus from his work. What this helped him achieve is coming back to his work refreshed, relaxed, enthusiasm back on regular.
Being the curious creatures we are by nature, doing one thing for extended periods of time, more often than not, turns to be a losing proposition. The human inside rebels and it seems as though shifting your focus in a way satisfies the hunger. Learn a language, or take up a hobby and such. This might restore balance in your life.
Resolve to be more objective and aware
Being able to objectively observe your reality is above everything else. And in a society where we are faced with shortened attention span, as well as constant noise, sitting down for a moment and recalibrating your thoughts seems in order.
I would not pretend to be smart enough and debate techniques. Whatever appeals to you the most, whether it is keeping a journal, or having a session of meditation, or going out with your dog for a run- that which allows you to sink deep enough and start doing some thinking outside your daily routine is all that it takes.
---
Wrapping this up, I will urge you to abandon old and regurgitated concepts on how to shape your New Year resolution ideas. Instead, try something that might as well surprise you or make you see things in a slightly different light. If, in the end, it does so, you will know for sure it worked.