Daily Burn is an online fitness platform with video workouts and progress tracking, which is also available on several streaming channels and mobile apps. This, I believe, is the most accurate description that even your grandma can be satisfied with. But reviewing one of the best online workout programs for 2018, we will have to dig a lot deeper. The Daily Burn review presented below is perhaps the single most useful write-up on the topic.
After releasing our own fitness program last year, we took a pause from reviewing popular fitness solutions. However, readers are constantly e-mailing with different requests, so we figured why not give it a try. If you are familiar with Lifestyle Updated, you already know what to expect – a very lengthy massive guide that puts Daily Burn under the lens, providing a much more detailed assessment than any of the other Daily Burn reviews out there.
The workout platform comes with a series of programs, designed for different goals, body parts, and styles of exercise. It is an online database with more than 1000 individual workouts, streaming on a long list of devices. The consumer model is a subscription based one, with a free 30 day trial (more about the pros and cons below).
This DailyBurn review will tell you everything you need to know, so you can make an informed decision. Committing yourself to a fitness program does come with a cost – you'll invest both time and money, so I'd like to help as much as I can.
Who is behind Daily Burn?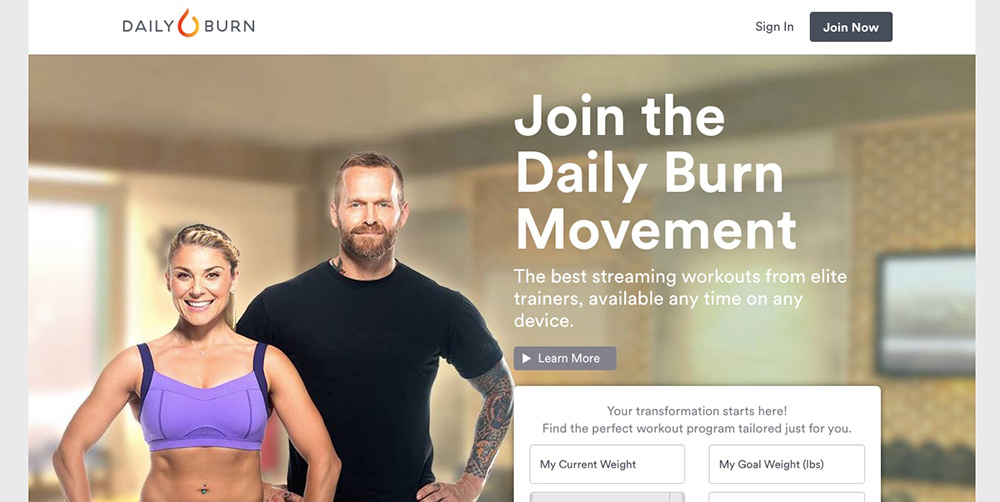 Nowadays, you can see Daily Burn featured on renowned magazines and channels such as The New York Times, Shape, abc, NBC, Self and dozens of others.
The beginnings, however, were much more humble. So let me start this Daily Burn review by charting their growth from a historical context.
Entering the scene long after Beachbody revolutionized the industry Daily Burn was compared to FitnessGlo (which is now out of business), Crunch Live, and YouTube sensations like Fitness Blender.
But growing in the shadow of iconic workouts such as the Insanity workout and P90X, Daily Burn has slowly found a niche. They've build a community around dynamic workouts with many different trainers and many different styles.
With new videos coming daily, the company grew larger in record time.
At the beginning, back in 2007, Daily Burn went under the name of Gyminee, which was then changed in 2009. The company was founded by Stephen Blankenship and Andy Smith who later sold a majority share to IAC in 2010.
The biggest growth was achieved after launching the Daily Burn 365 life show, in 2016. But even without it, the company was quite innovative considering the rest of the market. Beachbody was still selling boxes of DVDs, and the digital realm was ripe for the taking.
They've raised a lot of capital and created a brand that is growing at an unprecedented pace ever since.
But enough with the praise and flowery prose – let us focus on what you are actually here for, the Daily Burn review.
How to preview the Daily Burn programs
While many of the companies showed extensive previews in the past, they are now hiding everything behind a pay wall, or a free trial subscription. And nobody does it worse than DailyBurn.
If you are not logged into your account (trial account, but an account nevertheless) you cannot see a thing other than the infomercial. This, perhaps, is the reason why many people are eager to read a Daily Burn review before trying their hand at the platform.
To begin your tour, therefore, you need to sign up for a free 30-day trial (more on this below). Then, after answering a number of questions related to your age, height, weight etc. the system provides a recommended program from their list.
Here, a short video preview is available.
You can then browse the extensive library of workout programs – 21 of them in total – as well as individual workouts (far more than you can ever complete).
The workouts can be filtered according to:
Goals – strength, weight loss, maintenance, etc.
Difficulty – beginner, intermediate, advanced
Duration – from 2 weeks to 3 months
Workout length – from 15 to 50 minutes
Clicking on a program brings back a full description, with video previews, workout schedules and much more.
Most of them are beginner friendly, with an included modifier so you never lag behind. This is a relatively established concept, and I really regret not putting it into full use for our own workout program.
Some of the videos are only 15 minutes long, which is quite the advantage over the lengthy sessions of other programs such as the Insanity Workout. Time is perhaps the single most serious obstacle when it comes to building long term fitness habits, and this is definitely a plus. Length can vary dramatically from one program to another, but I'd say you can expect around 30 minutes on average.
Most of the videos incorporate bodyweight exercises, but there are those where you'll need a kettlebell, a dumbbell, a foam roller or a plyo box.
The chapter below includes much more detail.
The Daily Burn workouts
To complete all of the Daily Burn workouts, you'll need two years at least. The library is quite long, and I wouldn't expect anything less considering that they have new video workouts coming out on a daily basis.
The core of the platform, however, is not so vast. With diligence and discipline, you can easily complete all of the workouts included in the programs from the basic plan. It might take you less than 6 months.
But here is the thing – you won't be doing one workout after another until you exhaust the entire list. Instead, each video is structured so that they fit together into different programs.
You can find many picture excerpts from these workouts on the Daily Burn blog – it's a nice way to see some of the footage form the set.
There are 21 programs in total, including dance, high intensity cardio, yoga, strength training and more. People are often searching for the full Daily Burn workout list, but they are probably referring to the programs. So, here is the full list of programs, each of them comprised of several Daily Burn workouts.
I evaluated them separately, describing in short what to expect from each. This, in a sense, is the core of our Daily Burn review.
Mobility
If you sit a lot throughout your day, this is perhaps the best program for easing your way into fitness. Lots of stretching, but also packed with fluid movements and low-impact exercises. I always rant about range of motion, and this is one of the few workout programs that really pays attention to proper form.
Power cardio
This program incorporates a garden variety of exercises, in a fast-paced flow. Looks like a lot of fun, judging by the diversity and different areas of focus.
15
This is an interesting alternative to the old and popular 10 minute trainer from Tony Horton and Beachbody. A lot of varied sequences incorporating yoga moves, kickboxing and MMA drills. The videos are 15 minutes each, and it looks quite promising considering the length.
Inferno
Finally something more intense when compared to the rest of the list (I like challenging workouts!). This is a 21 day workout plan, with an AMRAP workout at the end of each week. To translate, that's as many repetitions as possible.
Inferno HR
This is a 4 week plan that makes your workouts more interactive. You'll need a quality heart rate monitor, which is used to feed their app lots of data, and then you get personalized feedback based on your stats. The workouts look intense and promising, though I highly doubt the rest of the premise (accuracy of measuring – you cannot measure bodyweight moves, since there is much variety on how you can complete them). If you are into tracking, however, definitely give it a shot.
Before I wrote this lengthy article, I was trying to see what the other Daily Burn reviews were saying about each separate program. Few of them, as I recall, didn't have a clue about what these workouts are – some are presenting Inferno HR as an advanced version of the Inferno program. They've probably read a description somewhere and never saw the actual videos.
Cardio sculpt
With 12 unique workouts designed by 5 trainers, cardio sculpt targets stubborn fat with dynamic cardio circuits. The goal is to get lean legs, toned abs and a tight butt. Looks fairly promising!
Move
This is Daily Burn's attempt at creating a dance workout program. Is it good? Most certainly yes! Does it compare well to Cize from Beachbody? I cannot say for sure. The style is different, and there are plenty of dynamic moves in both of the programs. Keaira LaShae is a very good instructor though! You will have fun and lose weight, that's for sure.
True Beginner
This is a 4 week program that builds stamina and strength while preparing your body for more demanding challenges. It is one of the entry level workouts from daily Burn.
Live to fail
A much longer program when compared to the rest, this one is packed full with diverse and challenging exercises. If you want to push yourself and tackle every aspect of fitness, the workouts look quite promising.
Core
If you want to focus exclusively on your abs, Core is a 14 day program that works your entire abdomen, including upper abs, lower abs and obliques. It will also work your lower back, glutes, and hip flexors. The workouts are innovative and fun, and would definitely produce results.
DBK
Cody Storey is quite the expert when it comes to kettlebell workouts. This program will therefore introduce you slowly into the world of kettlebell training, working on your cardio, strength, stamina and explosiveness.
Total cardio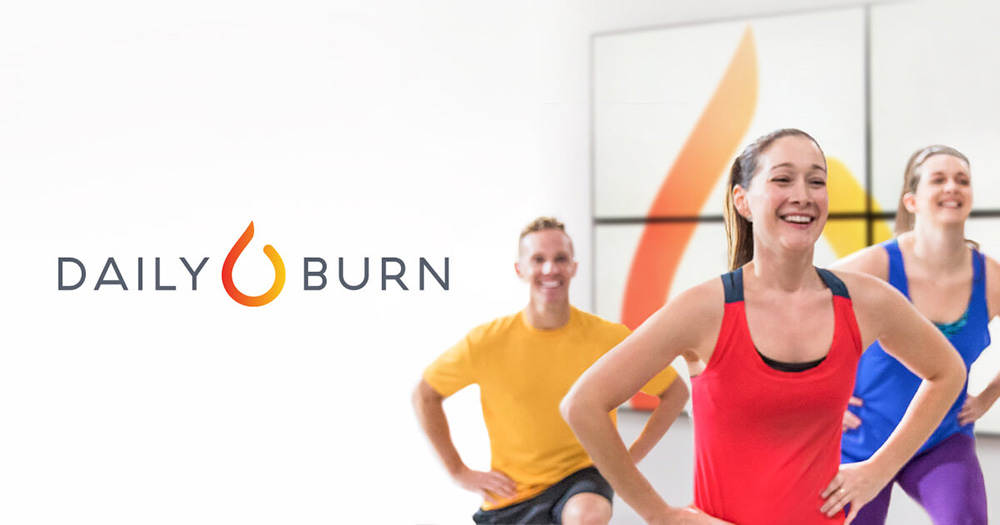 This is the all-out cardio program from Daily Burn, and the exercises feel quite intense if you try to complete them back to back. It lasts for 28 days. A true fat blaster!
TBT
This program is probably designed as a base for complex movements. If you want to work on range of motion and fluid bodyweight stunts, this is the one I'd recommend. It looks far better than most of the alternatives on the market. I wish I saw this program sooner, way before creating my own fitness platform.
Recover
Here you'll find a lot of yoga moves combined with foam roller work for myofascial release. This is definitely useful when you need instant relief from tension and injuries in the making.
Beautiful belly
Beautiful belly is designed by international yogi icon Briohny Smith while she was an expecting mom. I'm not qualified to review this program, but it does look very fun and innovative.
Black fire
This is one of the first programs streamed on Daily Burn, designed by celebrity trainer Bob Harper. It incorporates short and full body exercises that tackle almost every aspect of fitness. If you have the athletic spirit, this is definitely a must try. I've spend most of my time on the Daily Burn platform reviewing this program.
Pilates phase 1
If you want to learn the fundamentals of Pilates in 16 days, this is the program to choose. It is not as hard as some of the other programs on the list, but you can get there by completing each workout while paying attention to form and range of motion. A lot of stabilizing work is involved.
Pilates phase 2
Here you will have to build on top of the previous program, with more stabilizing work and much harder exercises. I will recommend this one to my wife – she would definitely enjoy the challenge.
Yoga fundamentals
This looks like a promising Yoga program that takes you one step at a time, into a well-designed progression. I watched some of the videos, fast forwarded most of them, and it looks very beginner friendly and dynamic at the same time. The coach – I forgot her name – is great!
Yoga made simple
This one is designed for all fitness levels, and incorporates a series of classic yoga poses. If you are into yoga, this is a great workout for maintaining shape.
Daily Burn audio
This workout is exactly what I love about Daily Burn. They innovate fearlessly, bringing new formats and sequences to the platform. It is designed to get you moving with a narration from a professional trainer, with workouts for every level of fitness.
Workouts review conclusion
Combined together, these programs count more workouts than you can possible complete within several months. Needless to say, the library is very diverse.
The motto of the company is "a better fit" and I guess that's the chief reason behind the broad range of different programs.
Most of the workouts are bodyweight, so you won't have to buy additional equipment if you are not willing to invest. The resistance workouts are definitely a plus, but you can – without any doubt whatsoever – achieve great results without any equipment, following only the programs where your body is supplying the resistance.
If you subscribe for the premium membership, you'll also get access to a vast library of past workouts. These were streamed as part of the Daily Burn 365 program, and have a lot of uniqueness and diversity to offer.
One of the main reasons why people get bored with exercise is because it pains them rather much to do the same thing over and over again. I for example, have completed some of the Beachbody workouts so many times that I can recall the transcript for some of them by heart. It ruins the fun, don't you agree?
Who are the daily Burn trainers?
Unlike Beachbody, where the company is tying the success of a single workout to the charisma and overall popularity of some of the trainers, Daily Burn is not creating cults.
Instead, the main focus falls on the workouts and the community, so there is not a single drill sergeant yelling from behind your shoulder.
The coaches are much respected in the industry, and have a long list of fitness qualifications. Some of them have celebrity status, while others are known only in a certain part of America, and in niche fitness communities.
I don't know how many of you would appreciate this part of the Daily Burn review, but I feel obligated to list these guys nonetheless. Former and current Daily Burn trainers include:
Bob Harper
Ben Booker
Briohny Smithe
Justin Rubin
Cody Storey
Gregg Cook
Dara Theodore
Prince Brathwaite
Andrea Speir
Briohny Smyth
Anja Garcia
Judi Brown
Keaira LaShae
All of these guys are super charismatic, and have a great sense for timing and flow. The cast behind them is well versed into following the choreography, so I can say with certainty that you will enjoy the instructional aspect of the workouts.
Progress tracking and guidance
Daily Burn is serious about innovation, so you will have a nicely designed dashboard for tracking your stats. These include the number of workouts completed, time spent exercising, goals achieved, calories burned etc.
The results are visualized and nicely presented, which is nothing less than what you should expect.
You will also receive daily motivation through encouraging messages inside the platform. They can work more on this one, considering the size and scope of their company, but I cannot say that it doesn't look great.
Although your feedback is taken into consideration, they don't seem to be implementing machine learning algorithms in order to modify your workout program in real time.
Besides, each workout program is designed to function on its own, so there is not much room for change and modification.
On our own platform, Fitness Updated, we answer both of these hurdles by implementing what is perhaps the only smart algorithm that modifies each workout program in real time. But you are here to read the Daily Burn review, so I will not focus much on making comparisons.
When it comes to guidance, I really wish they'd done a better job. I'm a fitness veteran myself, and won't have a lot of questions to ask left and right. However, most of the people trying Daily Burn for the first time are definitely confused and in search for answers. Many things, as it often happens, are not explained throughout the video, so people are wondering why they have to do a certain workout instead of another; why they are in week 3 and abs are not showing yet, etc.
Having said that, if anyone from the Daily Burn team is reading this, feel free to reach out to me and I will be more than happy to discuss how we addressed this issue when building our own program, Fitness Updated.
Supported devices for streaming Daily Burn workouts
While you can access the official website and stream the workouts directly on your smartphone, laptop or Smart TV, Daily Burn videos can be played through other channels as well.
Apparently, the company has worked very hard throughout these last couple of years, bringing their video workouts on other supported devices. In case you are wondering how to stream Daily Burn workouts, here is a list of all the supported devices and channels:
Personal computer (through a web browser)
iPad
iPhone (iOS app)
Android smartphones
Google Chromecast
Apple TV
Roku TV
Google TV
Amazon Fire TV
Samsung Smart TV
Microsoft Xbox 360
Sony PlayStation 3
Sony PlayStation 4 (PS4)
You can use any of these in order to stream the videos, but the most popular seem to be Roku TV, and a personal computer (this is from a quick assessment of what people are searching for and talking about online).
How about your connection (Wi-Fi or data)
This is a hurdle that many online fitness platforms need to jump over. And it is quite a difficult one. While the US enjoy a great infrastructural network when it comes to high speed internet, many regions of the world struggle with maintaining a stable connection.
That being said, you must consider the stability of your internet connection.
The videos are data heavy, so I'd recommend using Wi-Fi only. Streaming them day in and day out can amp your data usage and incur charges with your provider. So it is either Wi-Fi or one of the devices listed above, which can make for a better and more stable connection.
If you are on a trip, and the hotel is not offering quality Wi-Fi connection, your workout schedule might suffer. The same goes if you are not well versed with digital devices and find it time consuming, or stressful to set up a stable connection. I believe this is the reason why many folks still prefer archaic DVD's as opposed to apps, streaming channels, and smartphone gadgetry.
The Daily Burn price and the Daily Burn free trial
So let's do the math, shall we? What are the Daily Burn costs?
The platform offers a free 30 day trial with all of the features included (except for the library of past video workouts from the 365 daily show). That being said, you can access each program and try the entire thing for one month, no expenses whatsoever.
The thing is – and many people are frustrated over this one – Daily Burn asks for a credit card before creating your free account. They won't charge you, but in case you forget to cancel the trial before it ends (30 days), the company considers you a paying subscriber, and your card is charged for the following month.
That being said, you can cancel the daily burn trial at ANY time, and still use the rest of the month to watch the videos and access the platform. The Daily Burn cost, if you cancel before the end of your trial period, is zero dollars.
The complaints, though I understand them (it is definitely a cheesy move to ask for a credit card on a free trial, and then make an auto renew of the subscription), are invalid nonetheless. It is completely irresponsible to accept the terms and conditions, enjoy a free month on this great platform, and complain that you were charged for the following month after forgetting to cancel the subscription.
The subscription costs $19.95 per month, with an option to get the Daily Burn premium at a price of $26.95. But the default package offers far more workouts than you can ever complete.
How to cancel your Daily Burn subscription
If you've seen what you need to see throughout the free trial, and want to stop using Daily Burn, you can cancel at any time. And you won't' be charged (if you cancel before the expiration of your trial).
Now I understand that this is a Daily Burn review, where you want to get familiarized with the platform, but many people want to ask different questions, and my job is to provide answers.
Two of our readers were wondering how to cancel the Daily burn subscription, so in case you are one of them, let me describe the process. Here is how you cancel your plan (regardless whether it is trial or paid):
If you signed up thought the website directly, then simply deleting the Daily Burn apps from your devices won't make a difference. Instead, you should go to the Daily Burn login page, right on their website, and then, once you are inside, click on your profile name.
Select "account settings", click the "manage subscription" button, and scroll down to select "view your options". It is on the lower left-hand side.
On the next screen, let them know why you are canceling the subscription, and click "continue". Click "continue" on the following screen as well.
Then select the confirm cancellation option and press "cancel my subscription". Click yes on the final confirmation pop-up. It will say "pending cancellation", and there you have it – subscription canceled.
However, if you've subscribed to Daily Burn through Apple or iTunes, or perhaps Roku, you will have to cancel the subscription on their platforms, and with the help of their customer service.
The Daily Burn customer service
The only way to reach Daily Burn, sadly, is via e-mail. Obviously, this creates a number of frustrations. Although you can e-mail at any time during the week, you will lose a day or two going back and forth with their customer service. Not fun at all!
That being said, the Daily Burn customer service has a lot of shortcomings.
But most of the other on-demand programs work the same way. I for one am a meditation enthusiast, subscribed to Headspace, and their customer service is exactly the same. Whatever else might be said, I cannot think of a reason urgent enough that you'd like to call them.
The Daily Burn – Nautilus partnership
Although they've made a big deal out of it, this partnership concerns only those who own a Nautilus machine. Long story short, the Daily Burn platform is enriched with video tutorials for different machines, along with helpful content that gives people ideas on how to use these machines at home.
If you bought one recently, the trial for Daily Burn will definitely suffice, and you will be able to get up to speed, for any workout equipment, in a matter of hours.
The price of these videos is calculated within the total Daily Burn cost, i.e. they are included in the platform and come for free.
Let's focus on the core of this Daily Burn review, shall we?
Pros of the Daily Burn platform
Ready to wrap this up, I'll try to surmise this entire Daily Burn review in three separate chapters – everything that's good, everything that's bad, and everything that's pretty much ok, but could have been done better.
At the end, I will write my short verdict, which concludes this Daily Burn review.
So to focus on the first chapter, let's review the Daily Burn pros:
Impressive variety!
Whatever else might be said, the number of videos alone is impressive. There is a garden variety of fitness workouts, each completely different from the rest. Regardless of whether you are a fan of cardio circuits, yoga poses or Pilates moves, or perhaps look forward to strength training or dance routines, there is something for everybody.
Needless to say, this is a huge improvement over some of the low-budget programs where you are constantly repeating a set of 6 videos over and over again.
That's perhaps the reason why Beachbody created their flagship program Beachbody on Demand, combining all of their popular workouts into one library. The guys from Daily Burn, it seems, have beaten them to the punch.
Amazing looking videos!
For someone who've spent a year and a half trying to create a matching alternative, I sure know a lot about the quality of fitness videos. I was obsessed, for the better part of a year, with building a studio, choosing the right angles, the art of filming, camera work, the editing process etc. That being said, Daily Burn produces Hollywood-grade videos. Along with Beachbody, they are the best in business, and so far above everyone else that it's not even a race.
The studios look amazing, the colors are very uplifting, and the choreography is spotless. You'll notice some stellar camera work, dynamic editing and perfectly matching music. Everything is geared up to get you moving!
The charisma of the instructors will get you through the hardest workouts, and it is nice to know that you'll have several mentors throughout your entire fitness journey, as opposed to being stuck with the same one, and a single program, over and over again.
Professional routines
These guys know their craft, and the structure of each routine reflects that pretty well. Simply press the play button and follow their instructions.
I'm a fitness junkie myself, and the creator of a very dense fitness platform. That being said, this Daily Burn review is looking at other factors aside from user experience – I've analyzed the sequences from a more professional fitness perspective, and my verdict is super positive.
Innovative and engaging exercises
The sequences themselves are comprised of very engaging moves, and you'll find joy in completing them back to back. After being in this industry for about 7 years, I've seen almost all of the moves that people can come up with. And though you'll see most of these in other programs around the internet, many are unique even to us. Quite the refreshment!
Free trial
Although many people complain about being charged the second month, the trial is completely FREE. If you are not satisfied with the platform, and want to cancel before the trial period comes to an end, you won't be charged a penny.
Lots of streaming options
The list of Daily Burn streaming devices is so long that it almost includes every streaming device and channel there is. They've worked quite a lot on making this happen, creating bridges by partnering up with different streaming companies.
The apps are sleek and very well designed.
The Daily Burn 365 live show
If you want to feel part of a community, this is perhaps the best fitness hub on the entire internet. So many different videos, all of them new, all of them unique, with a tribe of dedicated professionals investing everything they got.
Cons of the Daily Burn platform
Unlike many others around the internet, this Daily Burn review is not about writing flowery prose. There are many shortcomings to this platform, so let me list some of them:
Asking for a credit card while registering for a free account
When creating our own fitness program we thought really hard about this one. At the end, we have concluded that it's a very cheesy move to give people a free trial, only to ask for their credit card info in return.
Even though you won't be charged a penny if you cancel your trail on time, the practice itself is very pushy.
E-mail only customer service
Although you'll get your e-mail reply rather fast, for many older folks out there it is quite the frustration to not be able to pick up the phone and talk to an actual customer service representative.
The price issue
Paying $19 for a monthly subscription is something that many people cannot justify right away. They've been offering the same service for several bucks less in the past, but now that everybody is doing it, they can afford to sell higher.
This price issue is not about comparing Daily Burn vs Beachbody on Demand. No. Since all of the fitness platforms are more or less equally priced. I'm thinking more about simpler times when you were able to buy a program with a single fee and that was it. But I guess we are now in a different world. Time to adapt.
The subscription model issue
Paying for a monthly subscription means that you lose every access to your favorite workouts once you stop feeding them dollars. That's why I love workout DVDs, but sadly most companies are migrating towards this business model. And it makes sense – you can access the workouts from everywhere, and only pay for as long as you are using them.
Many people, however, just like myself, would prefer otherwise. And that's why we are working our tails off, trying to restructure Fitness Updated, and offer it with a one-time payment option. No More Monthly Fees!
No dedicated meal plans to follow
While the community is filled with healthy recipes, there is hardly an option to tie them neatly into a comprehensive diet plan for any of the programs.
Both Beachbody and our own platform score better in this regard.
I knew right away after navigating the platform that this is going to be one of the cons when writing the Daily Burn review. But here is the thing – if you follow some of the recipes presented in the Daily Burn community, there is no need to bang your head against the wall trying to figure out complex nutrition programs. It's simple – eat balanced and clean and press play according to your workout schedule. The rest will take care of itself.
Some of the workouts require equipment
If you remove all of the videos where they are training with dumbbells, kettlebells, foam rollers, plyo boxes and stability balls, there is still plenty of variety to enjoy. However, I'd rather opt in for a program where there is no need for any equipment whatsoever.
Equipment is about fancy – if you know what you are doing you can achieve your goals with only a pair of shoes and a towel by your side!
There is an alternative
Though the difference between Daily Burn and Beachbody is minuscule in some regards, I believe that it pertains to different styles, and is therefore very large in other areas.
Beachbody on Demand, as some would have you believe, is a slightly better service. But am I making this claim? No! Although I've enjoyed their programs for years on end, it is simply… different. When it comes to diversity, both have sufficiently large libraries, but Daily Burn packs way more fitness for the price.
Beachbody, on the other hand, includes nutrition programs for every separate workout.
There are many coaching styles, and many workout styles that differ from one platform to another so the best way to decide is to try each for yourself. What is there to lose anyway – the trial is free!
Beachbody is slightly more aggressive when it comes to marketing, so I learned to appreciate Daily Burn more, when it comes to their elegant and stylish platform.
We've published a massive Beachbody on Demand review in the past, so make sure to give it a look if you are interested in making comparisons. I want to do an extensive write-up on DailyBurn vs. Beachbody, but don't hold me to my word.
I wouldn't mention Fitness Updated in this context, since any remarks will be far too biased to consider anyway.
Where it needs improvement
While all of the cons are obviously screaming for an improvement, there are many verticals where DailyBurn is good enough but would definitely benefit some changes.
First of all, modifying the workout schedule is a must. The programs come with a predefined workout plan, but considering how we are all different, they cannot afford to stay static.
This seems like an insignificant change, but surveying our own subscribers shows how much they appreciate the personalized modifications.
So there you have it – I hope this Daily Burn review highlights all of the cons as well, that some people usually struggle with.
Daily Burn review – the verdict
If you are comfortable working out with the format of online videos, then this is perhaps the best (or second best, depending on who you ask) platform in the world!
The videos are stunning, and the crew on spot for the task. Each workout is designed form a professional who saw a way to integrate it into a much larger and more comprehensive program.
There are so many programs available with more workouts than you can possible go over, which ensures a lot of variety. Needless to say, you will never get bored!
The sequences are challenging, but suitable for every level of fitness once you introduce the modifying aspect to every move.
Even if you don't put too much trust in the Daily Burn before and after testimonials, I can say with certainty that the workouts are decent enough to transform your body if followed diligently. If you are looking for the real deal, look no further!
Where to buy a Daily Burn subscription
The easiest way would be through their website, but you can also check each streaming channel if you already use them extensively.
My advice would be to sign up for the free trial, look around, and then decide on your own. Forget about reading one after another of Daily Burn reviews – the best way to find out whether or not this platform is suitable for you is to actually poke things around.
I hope this Daily Burn review was long enough to point out everything you wanted to know about the platform, and I hope it answers all of the questions that we've received from our readers in the past two years.
Feel free to start the conversation by leaving a comment. I will do my best to answer your questions – as you'll find out by staying longer on our website, the comment section is definitely an important part of any review, so the Daily Burn review is not an exception.