Releasing our own workout program six months back, my husband and I decided to pause the review series, at least for the time being. But after several thousand users on board, we figured out that the success of our own workout wasn't necessarily tied with those of Beachbody. It wasn't an either-or situation.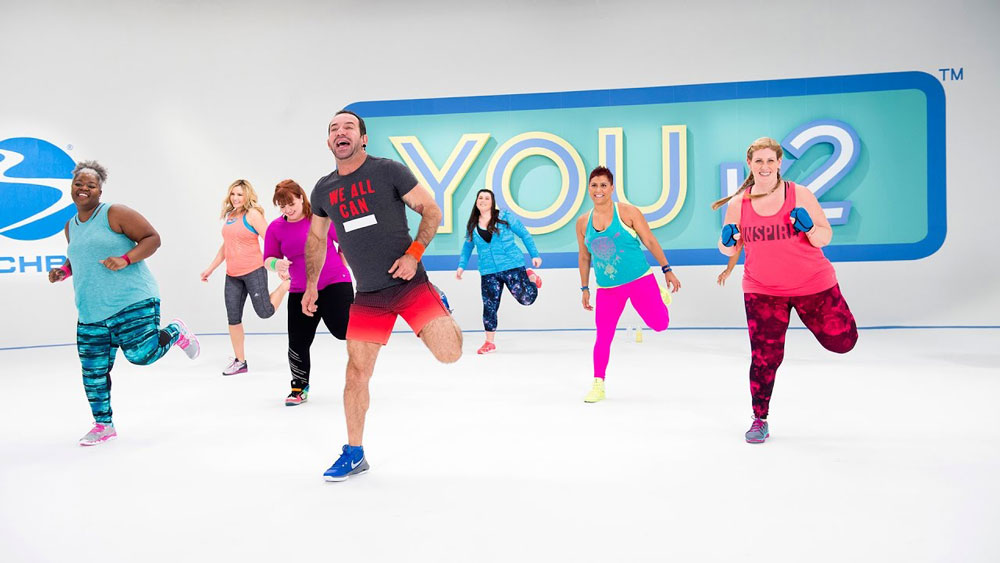 And considering the positive feedback I've received last time, when reviewing Cize, the thought of doing a YOUv2 review suddenly seemed like a good idea. So why have I bought YOUv2, completed the 4 weeks, and stayed on track, all the while documenting the process?
Most of all, I guess, as an answer to all of your e-mails. Yes – we launched our own program, No – we haven't abandoned those of you who still prefer other workouts.
This comprehensive YOUv2 workout review is a way of proving that.
YOUv2 review – What is YOUv2?
YOUv2 is a new month-long workout program, designed for beginners and people who want to get back into shape. It is simple, easy, and fun, regardless of your size or level of fitness. It's created by Beachbody and fitness coach Leandro Carvalho and officially launched on May 16th, 2017.
The program features 6 workout sessions, 4 of which are cardio based dance-like routines, and 2 slightly harder sessions based on muscle sculpting bodyweight moves.
I generally hate fitness programs that claim to be for everybody, and then nobody in specific. Luckily, with only 6 workout sessions, YOUv2 knows its limits – It's not for everybody.
The program is tailored for people who are new to fitness, and want to start from somewhere. It's meant for those who've been off the healthy path for a while, but want to get back on board, turning a new page. The name, in light of that, is fairly symbolic – YOU version 2.
YOUv2 workouts – what are they like?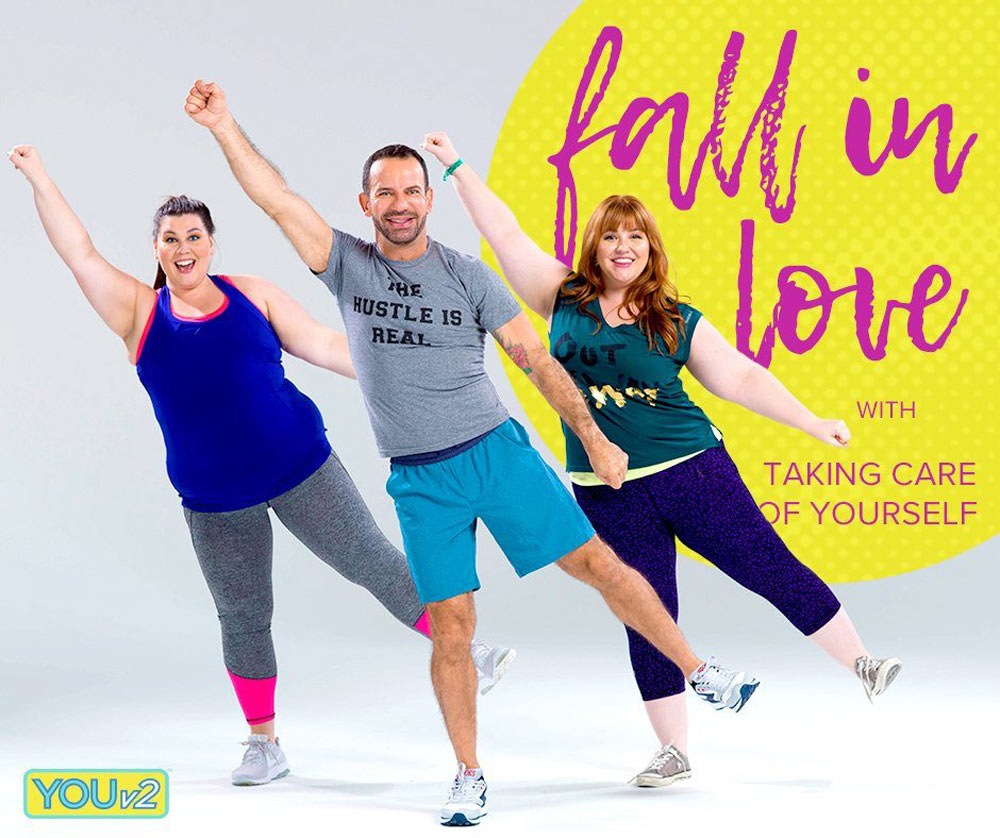 Whereas other fitness programs include modifiers to every move, YOUv2 IS the modifier. Each move seems to be beginner friendly, so I think nobody is being left behind. Instead of introducing hard sequences and planting a modifier, YOUv2 takes it the other way around – each move is easy to handle, and there is an Intensifier for those who want to up the ante.
This way, you never have to hang your hat. Keep the pace, and push harder with the intensifier whenever you can.
The workouts are low intensity, without jumping, and require no equipment whatsoever.
Average length is 30 minutes (ranging from 28-34), and the pace of each sequence is upbeat and dynamic. I love how they start with simplicity, building up the pace from there.
The music includes classic party songs from the '80s and '90s, and for a lazy cat like myself, it is a very uplifting and positive vibe.
You'll definitely recognize each entry from the list, because they include Let's get loud, She works hard for the money, Hit me with your best shot, Good vibrations, Love shack and Believe. Time machine firing up in 3, 2, 1…
Who is Leandro Carvalho, the creator of YOUv2?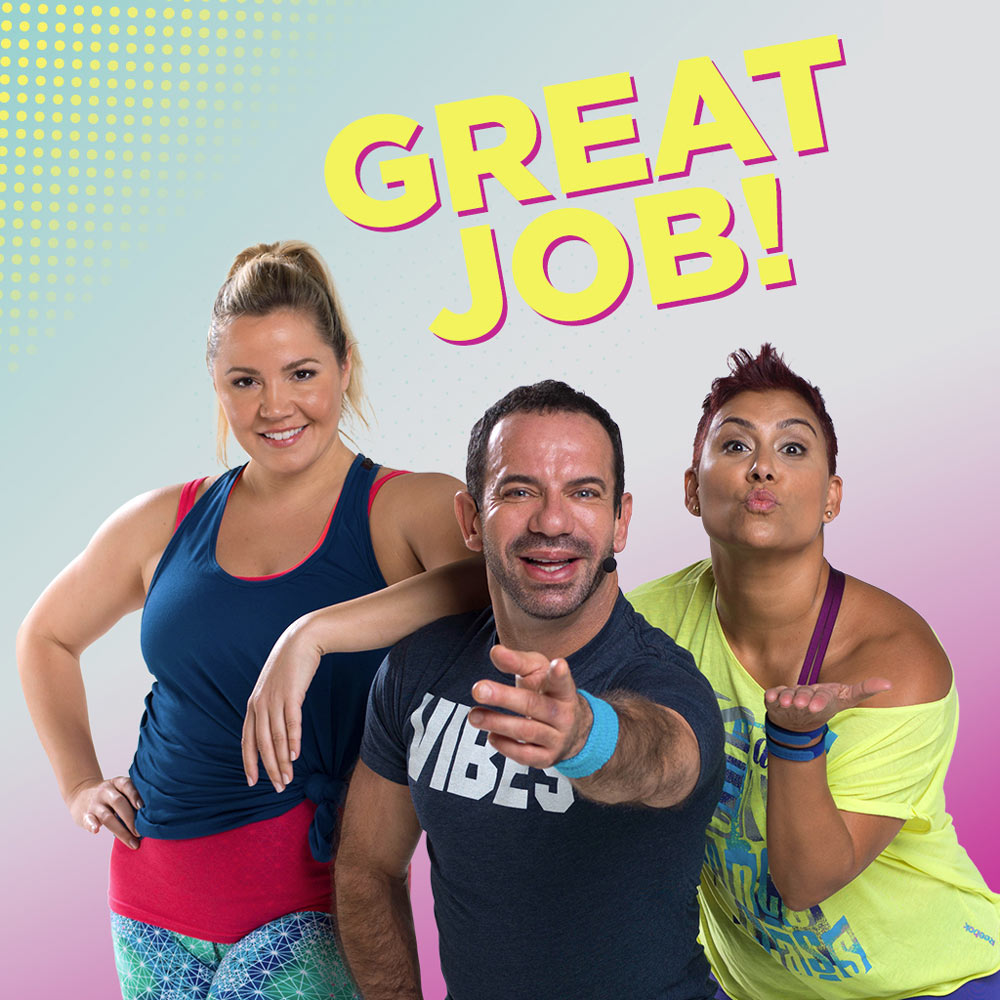 To be honest, seeing the YOUv2 commercial for the first time, I kinda made a grimace there for a second. The guy looks like a scam. With the accent and "what are you waiting for" approach, it felt really suspicious. If it wasn't coming from Beachbody, I would have skipped.
But that's just Leandro's charisma, which honestly, took me a while to get used to.
He is a NYC based Brazilian native, who worked as a dancer in numerous prestigious projects and companies. He also created the popular workout program titled Brazil Butt Lift. And with scores of certifications for Pilates, and deep understanding of holistic fitness, he is the real deal.
What made him create YOUv2, according to him, is a general dissatisfaction with most fitness programs, which leave behind millions of people. Closing that gap, his idea was to create something easy, doable, and beginner friendly.
So instead of bringing a modifier to an already difficult sequence, he turned the concept upside down – the sequence IS the modifier, and you get to follow an intensifier if, and when you please.
I like the concept of YOUv2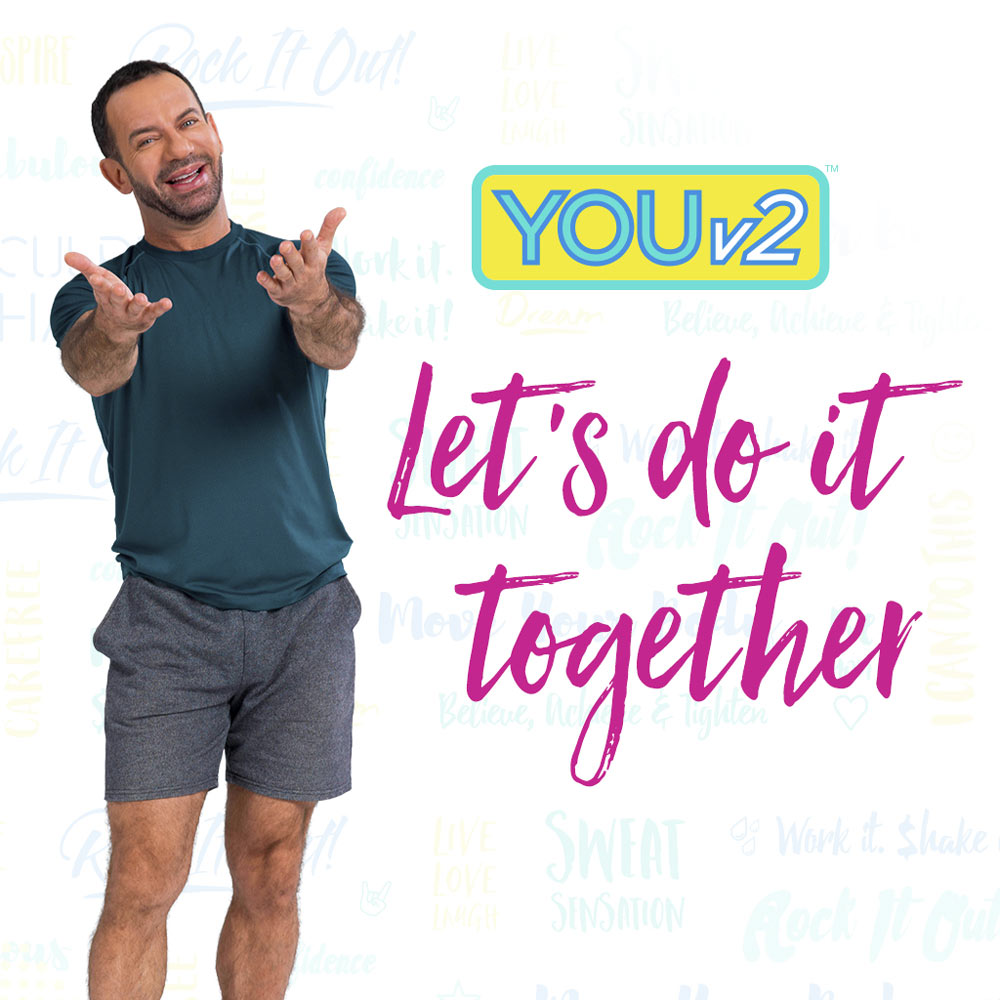 Being a lazy cat, I share Leandro's sentiment. I'm a person who is generally slim and toned, but can easily put some weight, even over the course of a single week.
I used to practice dieting a lot, but after meeting my husband I finally got myself around the idea of doing a workout every now and then. He had the patience to introduce me to low-intensity, low impact workouts, and even created his own program tailored to people like myself, where you can start slowly and progress form there. (I was part of the production, and guinea pig team, and LOVED the experience!)
YOUv2 is about starting. It's about losing the first 10-15 pounds, and becoming more agile, flexible and coordinated.
The exercises are designed to keep your heart rate continually up, and burn more calories and more fat tissue as compared to intense routines where you have to stop several times in order to take a break.
Intense exercises are only going to work if you can do them proper, which is impossible for a large majority of people. These movements though, are designed to be doable, and keep you sweating for the entire 30 minute length.
What to do after completing the month?
From there on, you can repeat the entire month once more, or move on to a more demanding and more ambitious program. If you are not restrained by deadlines or manufactured emergency, YOUv2 can be an excellent way of changing your body over a longer period of time.
As you progress through the weeks, you'll be able to follow the intensifier more often, and thus progressively improve. You can make the second round harder by following the intensifier alone, and lose extra pounds…
Or, you can combine YOUv2 with other workouts, like for example PIYO or 21 Day Fix, which are included in the Beachbody on Demand library (more on that later).
The best idea though, is to either complete the program two times back to back (second time following the intensifier more often); or, complete a round of YOUv2 and then continue with another program (good picks would be 21 Day Fix, Focus T25, or PIYO).
What is included in the YOUv2 package?
Purchasing YOUv2 is slightly different than other Beachbody workouts. Being a new release, you get to choose between the physical package which includes:
2 DVDs with 6 workout sessions total
One motivational wall art calendar for tracking your progress
The Quick start guide where the entire process is explained
The K.I.S.S. manual (keep it super simple) with easy to follow habits and recipes
The "Oh hello" journal for tracking your entire experience
A free hat when you complete the program
30 day money back guarantee
And the digital package, which is part of the Beachbody on Demand offer. Here, you will get everything from above (in digital form), plus the Kid's channel, as well as the FIXATE healthy cooking show.
In addition, you get the entire Beachbody collection of workouts (including 20+ programs) which you can stream for an entire year. This is great if you like to continue with other programs right after finishing YOUv2. Otherwise, get the physical product.
Why go with YOUv2?

What I like about the program is that cardio moves, though being spiced up with rhythm and music, are not necessarily turned into full-on dance moves. I've been told that both of my legs are left, and after going through the experience with Cize and the samba classes for my wedding, I think I've had enough of dancing for the time being. Luckily, YOUv2 doesn't go that path.
Additionally, Leandro takes you step by step through the entire session, so you can catch up with the flow and not fall behind.
YOUv2 doesn't take herculean effort. And that's one of the best things about it. People often think that harder programs give birth to better results. But seeing my husband's experience with training people, I've seen quite the opposite to be true – you have to start from somewhere accessible.
It's better to play it safe, instead of betting the farm and throwing the towel later.
Many people routinely underestimate the importance of slow but steady progress. YOUv2 doesn't make that mistake. It is designed for people who are just starting out. But in principle, even more ambitious folks can find it useful if they follow the intensifier all of the time.
Otherwise, the program is low impact, which means no jumping, or strenuous work affecting the knees, ankles and joints.
Another thing I love about this program is the concept of the journal. My husband is also pleasantly surprised by this new introduction, and started writing about his workouts as well. My theory is that you'll enjoy the process when you become more aware about how you feel, about certain patterns of resistance, and attitude reassessment.
Why YOUv2 may not be suitable for you?
Having to start with simple moves can repel a lot of people. If you want complex sexy moves and a drill sergeant yelling in your face, YOUv2 is definitely not your friend. You'll be likely better with one of Shaun T or Tony Horton's instalments.
YOUv2, though it fulfills its purpose, doesn't seem very sexy. The moves are not state-of-the art, and there might be some repetitiveness here and there. For people who are into shape, this program lacks a certain dynamic.
You'll have to be dedicated. And though this program makes it easier to stay on track, you'll still have to pay attention to nutrition and balanced meals. The "Keep it super simple" guide will walk you through, but willpower is required nonetheless. Here, nutrition is as important as working out.
Get YOUv2 and all other Beachbody workouts for just $99

What to expect from YOUv2?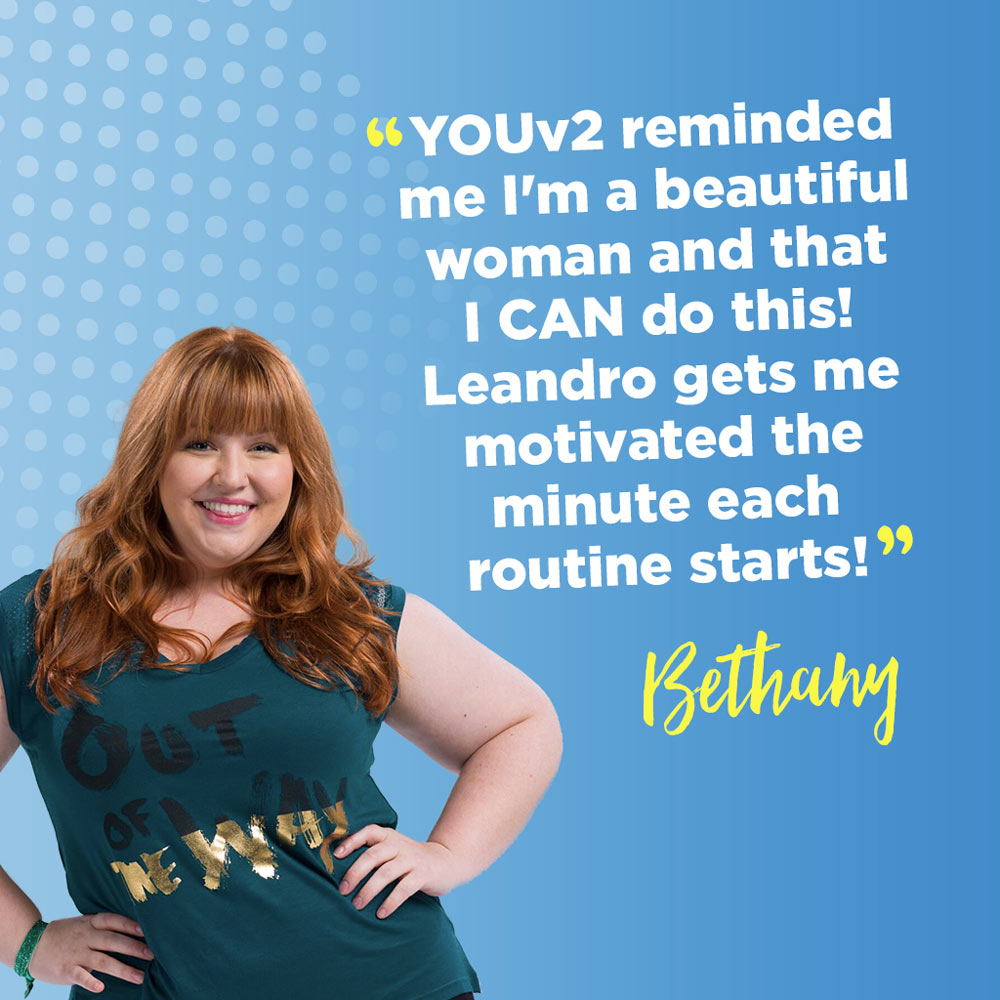 Depending on how closely you follow the principles outlined in the "Keep it Super Simple" guide, and how much you strive to catch up with the intensifier every now and then, YOUv2 can slim you down between 5-15 pounds.
The great thing about this program though, is that you won't feel a lot of discomfort (if any) while performing the moves. The fact that you always have the sequence to get back to (if you are unable to follow the intensifier), is enough to get you moving throughout the entire length of each session – which is crucial for losing weight, and exactly where many programs get it wrong by forcing you to take frequent breaks.
Expect easy but fun moves, cool rhythm, and step by step sequences which you'll be definitely able to follow.
Your strength, endurance, flexibility, coordination and agility will also improve. After finishing YOUv2, you'll be able to tackle much harder programs like 21 Day Fix, or even Focus T25.
My husband watched all of the videos, and rated the difficulty of YOUv2 as compared to other workout programs released from Beachbody… here is his take:
Whereas Beachbody started with ambitious and extreme fitness programs, the latest trend is moving the bar to a lower and much more accessible level. And that's clever. Because many people cannot imagine themselves doing a workout from the Insanity franchise…
If I had to rate YOUv2 in relation to these will-crushing routines, I would say this – Insanity and P90X deserve 9* and 8* rating respectively (on the scale of difficulty). Then you have Hard Corps and Focus T25 with a solid 6*, and 21 Day Fix and P90 with a 5*.
Cize and Hip Hop abs would be a 4*, and YOUv2 is a 3*. With the intensifier? – Well, it can easily range between 3-5* depending on how often you are following it.
See his habit of classifying things? Well imagine that in everyday life. Fun, huh?
But anyway… Released on May the 16th YOUv2 is fairly new and not a lot of folks gave their two cents about the program, so you'll rarely find YOUv2 reviews around the net. Expect to hear from gals only, as I cannot quite picture men doing these sequences. The moves, though dynamic at times, look kinda gentle and feminine in a way.
The most important thing you should expect from YOUv2 though is that you are definitely going to stay on track. The sequences are fun, and varied enough to keep you engaged at least for a single month. And whereas the probability of you dropping out from other programs is significantly high, the chances of abandoning YOUv2 are quite low. This means that you'll stick with the program, which I my opinion is the most important prerequisite to actually losing that weight.
Where to buy YOUv2 from?
*Update – All Beachbody workouts, as of recently, are sold through their subscription model titled Beachbody on Demand. Therefore, I'd recommend the official Beachbody On Demand website.
The cost is $99 for a yearly subscription, but get this – you will also have access to All of their latest programs, All of the popular programs (such as Insanity and P90X), and as if this wasn't enough – All of Beachbody Future releases!
The subscription to Beachbody on Demand comes with a 30 day money back guarantee as well.
Get YOUv2 and all other Beachbody workouts for just $99

YOUv2 review – the conclusion
Folding up this letter, I hope I made it easier for you to decide whether or not this program is actually for you. In recap, it is a beginner friendly, low impact and low intensity workout, suitable for people who are willing to start from somewhere, and lose those first 10-15 pounds.
Dedicate yourself for a month, and allow YOUv2 to provide the necessary backbone – the proper framework – on top of which you'll progress further.
And when people ask me whether it works, I tend to say "generally more than others". But does it mean it is better than other Beachbody releases? NO – it is just a program you won't be quitting from. And this, by far, is the most important step to actually losing weight.
I hope you enjoyed the review. Feel free to share your experience in the comment section below, or just stop by and say hi.
You can also check our own program – Fitness Updated – and use the completely free 7 day trial to see whether you like it or not. You won't have to enter your credit card, but only e-mail instead, and get full access to the entire program for 7 days. It is highly customizable, with 19 workouts total, and lots of recipes, which form dozens of different calendars for each goal and level of fitness.